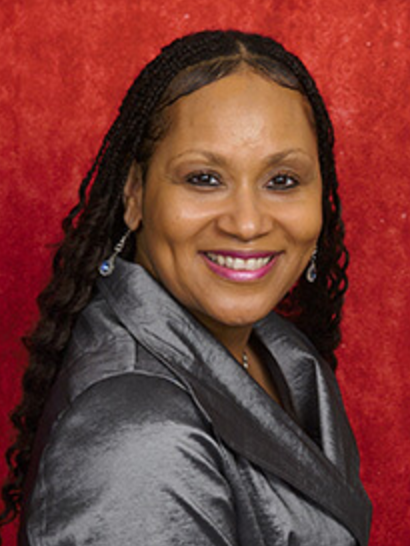 The American Council on Education (ACE) announced that Angela Webster, associate vice president for Institutional Diversity and associate professor of Leadership Studies, has been named an ACE Fellow for the 2017-18 academic year.
Established in 1965, the ACE Fellows Program is designed to strengthen institutions and leadership in American higher education by identifying and preparing faculty and staff for senior positions in college and university administration through its distinctive and intensive nominator-driven, cohort-based mentorship model. Forty-six Fellows, nominated by the senior administration of their institutions, were selected this year following a rigorous application process.
"I am joyful that I have this rich opportunity to study higher education with a diverse group of higher education leaders from a variety of colleges and universities across the U.S. and other nations that also have multifarious missions," Webster said. "I look forward to the potential, the possibilities and the promise that this opportunity affords."
The program combines retreats, interactive learning opportunities, visits to campuses and other higher education-related organizations, and placement at another higher education institution to condense years of on-the-job experience and skills development into a single year. During the placement, Fellows observe and work with the president and other senior officers at their host institution, attend decision-making meetings and focus on issues of interest. Fellows also conduct projects of pressing concern for their home institution and seek to implement their findings upon completion of the fellowship placement.
At the conclusion of the fellowship year, Fellows return to their home institution with new knowledge and skills that contribute to capacity-building efforts, along with a network of peers across the country and abroad.
Webster completed her doctorate in educational psychology and research from the University of Memphis. She is a PreK-12 licensed school administrator through the Tennessee Department of Education. She has also received seven years of training in coaching from Coaching for Results Global.
In K-12 education, Webster served as founding principal of two independent schools, designer of a public charter school, an executive coach for public schools and a board member of a public charter school. In higher education, she has served at several institutions, including a women's university in Saudi Arabia, an art university and a historically black college/university.
Webster also serves as associate professor in Leadership Studies and as a member of several university committees. In addition, she received a 2016 National Role Model Administrator Award through Minority Access, Inc. and the President's Award at the 2014 Association of Teacher Educators Annual Meeting.
Nearly 1,900 higher education leaders have participated in the ACE Fellows Program over the past five decades, with more than 80 percent of Fellows having gone on to serve as senior leaders of colleges and universities. The 2017-18 class will kick off its work this fall as ACE prepares to celebrate its 100th anniversary in 2018.
"Fulfilling higher education's 21st-century mission depends upon a visionary, bold and diverse global community of institutional leaders, and the ACE Fellows Program plays a key role in cultivating these leaders," said ACE President Molly Corbett Broad. "The diverse and talented 2017-18 Fellows class demonstrates why the program has made such a vital contribution for more than a half-century to expanding the leadership pipeline for our colleges and universities."
About ACE
Founded in 1918, ACE is the major coordinating body for all the nation's higher education institutions, representing nearly 1,800 college and university presidents and related associations. It provides leadership on key higher education issues and influences public policy through advocacy. For more information, please visit their website or follow ACE on Twitter @ACEducation.