The University of Central Arkansas wants to work together with you to create a fun, healthy and vibrant campus community. As part of that commitment, we require all students to complete Haven -- an engaging online, research-based program that provides a unique learning experience regarding important prevention skills and strategies for our students. You will learn about healthy relationships, the importance of consent and being a good communicator, and the many ways you can help create the safe, positive campus you want to be a part of.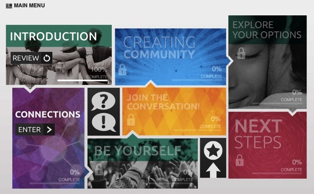 Tell me more?
Haven offers a confidential, personalized experience for each student.
This online experience includes:
Engaging content featuring videos and hands-on activities
Tools and scenarios to define and promote healthy relationships and help spot the warning signs of abuse
Skill-building exercises and strategies
Concise, accessible, engaging (and private) educational platform
What are other students saying?
72% of students who took Haven said they were confident in their ability to support a friend who has been sexually assaulted
79% said they have a good understanding of the definition of sexual assault
69% said they can identify warning signs of abuse in dating relationships
63% said they would feel comfortable intervening if they witnessed abusive behavior
81% said they would respect someone who intervened to prevent sexual assault
70% said they would take action in a situation in which someone was taking advantage of someone sexually
The course has two sections, both of which must be completed to fulfill this requirement. You are required to complete Part 1 of Haven by October 1, 2014. You are required to complete Part 2 of Haven by December 1, 2014. Part 2 will be available mid-October. If you do not complete the course in its entirety, you are in violation of a University mandated policy and could be subject to disciplinary action. Your course administrators are Kandi Hughes, Brandon Price and Colin Stanton.
Log-in Information
Always sign in at: https://my.uca.edu using your UCA username and password.
Select the My UCA page.
Look for the Haven Online Training channel.
Click the 'Connect to Haven' link.
Before you begin, please remember:
You will need Internet access and audio capabilities.
To avoid technical issues, please use a major web browser released within the previous two years.
You may complete the course in multiple sittings. If you need to return to the training, the program will bring you back to where you last were in the course. It is encouraged that you bookmark the link.
The course may include surveys to help personalize your experience and measure your attitudes and behaviors. All survey responses are confidential; UCA will only receive information about the student body as a whole and will never see your individual students' answers.
If you require accessible media, please contact the UCA Disability Resource Center at 501-450-3613.
Should you experience problems, technical support is available 24/7 and can be accessed from the "Help" link found within the course. If you experience login problems, you may contact the IT Helpdesk at helpdesk@uca.edu or 501-450-3107.
If you have questions about Haven, please contact your course administrators: Kandi Hughes via email at khughes@uca.edu or by telephone at 501-450-3247; Brandon Price via email at bprice@uca.edu or by telephone at 501-450-3137 or Colin Stanton via email at cstanton@uca.edu or by telephone at 501-450-3235.