TUTORING
Tutorial services are available for subjects taught in high schools that are a part of the college preparation core curriculum (i.e., English, Science, Math). Each target high school has an Upward Bound tutor.  Upward Bound tutors are high school teachers or upper level UCA students. Students attend two hours of tutoring a week. During this time students will receive help with homework or work on ACT practice tests.
SATURDAY ACADEMIES
Students meet on the campus of UCA one Saturday a month during the academic year. The Saturday sessions are approximately eight hours in duration. Sessions will include speakers on career exploration and academic fields. Students will participate in workshops about scholarship and financial aid information. Sessions will also focus on study skills, learning styles, time management, stress management, interest and abilities inventories, and college life.  Field trips will include college visits and cultural experiences such as museums, plays, musicals, or community service activities. Saturday Academies are designed to enhance students' learning in an interactive and fun setting.
ACADEMIC ADVISING/ONE-ON-ONE'S
Academic advising is one of the major components of Upward Bound at the University of Central Arkansas. Students participate in a systematic career and college planning program designed to assist them in exploring career options and preparing for college. UB staff will visit students individually at their high schools during the academic year to assist students with issues and concerns as well as provide college and career planning services and academic advisement. Each student receives an individual Educational Action Plan (EAP) which outlines his/her academic goals for the semester, provides remedies for academic problems and gives feedback for the improvement in academic performance. EAPs are monitored and discussed with each student three times a year. Discussions will also include college admissions process, financial aid, scholarships and degree programs.
ACT PREPARATION
Students can participate in make up tutoring days on Saturdays throughout the year. Make up tutoring days will alternate between ACT math, science, reading or English.  We use high school teachers and upper level UCA students to teach these classes. Class is 9:00am-1:00pm and current dates will be posted on the upcoming activities page. Students can use these days to make up for missing tutoring due to illness, school events or sports practice.  ACT scores are very important and can create great opportunities for students. The goal for these classes is to better prepare students to take the ACT.
SUMMER ACADEMY
The University of Central Arkansas Upward Bound Summer Program is an intensive six week session during which students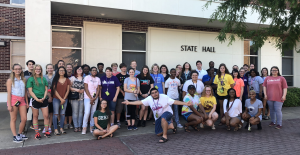 live on campus. During this time students get to experience college life by living in residence halls, eating in the cafeteria, and taking classes. These classes are not for high school or college credit, but are meant to prepare students for their high school curriculum. Courses provided include science, math, literature, reading, Spanish and writing.  The residence hall staff, which is comprised of UCA upper-level/graduate students, provides supervision and support for the students. The staff also serves as academic tutors. Students are also involved in personal development activities and workshops. In addition, students participate in cultural events, academic programs, career skill building and exploration, and social activities. The summer component is designed to simulate a college experience for UB participants. The College 101 class is pictured on the right. In this class rising seniors learn about college life, self assessment and awareness, learning strategies and styles, and setting college and career goals.
WORK STUDY
Upward Bound has received grant funds to offer work study for students during the summer. Several departments on the UCA campus participate in the work study program. Students tour departments on campus and learn about the functions of each department as well as career options. Students that are participating in their second summer academy are individually placed in departments for a "job shadowing" experience.
END OF SUMMER TRIP
An educational summer trip will be planned to give UB participants additional educational, social, and cultural experiences. Students earn the summer trip by participating in the Summer Academy and doing well in all their classes. Past trips have included Memphis, Dallas, St. Louis, Atlanta, Chicago, Nashville, Tulsa, Branson, Fayetville and Washington D.C.
BRIDGE PROGRAM
Eligible UB students have the opportunity to participate in the Bridge
program and earn college credit. Eligible students have been active in the program for 3-4 years. Students must have at least a 2.5 GPA, participate in two full summer academies and have good attendance to Saturday academies and tutoring to be eligible for the Bridge program. Bridge students must be accepted to UCA for the Summer I session and be enrolled in the college of their choice for the following fall semester. The Bridge program is a great opportunity for UB students to earn college credit and experience college life with help of UB staff members.