Navigate Student allows undergraduate students at UCA to make appointments, connect to campus resources, and manage tasks to stay on track to graduate.
Navigate has replaced GradesFirst.
---
Why Use Navigate?
Schedule appointments
Access your class schedule
Track holds, important dates, and deadlines
Connect you to the right people and campus resources
Provide information you need to know
Sign up to for study groups in your classes through "Study Buddies" (see below for more information)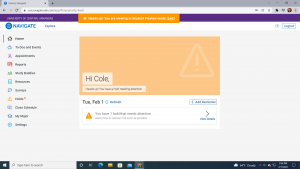 How Do I Access Navigate?
Download the Navigate Student Mobile App. It's easy and it's free. Just download Navigate Student from Apple's App Store or Google's Play Store, and log in; or
Log in to myUCA and select the Navigate Student tile; or
Go to https://uca.navigate.eab.com/ and log in using your UCA username and password
What is Study Buddies?
Through the Navigate Student app or desktop site (myUCA/Navigate Student), students can access a feature called Study Buddies. This feature allows you to connect with other students in each of your classes who are interested in studying together outside of class.  On the app, click on the Study Buddies icon. If using the desktop site, click on "Study Buddies." Once Study Buddies is selected, you will see a list of the classes in which you are currently enrolled. Next to each class you will see how many other students (called buddies) are already in the group and if you have already joined. Select the course sections you are interested in joining.
How do I Schedule an Appointment?
Many academic advisors and faculty are using Navigate to set appointment availability for advising appointments and faculty office hours.  There are two ways to schedule an appointment:
Select Appointments on the Navigate Student app or on Navigate Student through myUCA on your PC, and locate the person with whom you want to meet.  Navigate will allow you to select a date, time, and location (office or Zoom) depending on what your advisor or professor has set up; or
Click on the Personal Availability link shared with you by your advisor or professor.
UCA Navigate Student Info Flyer
Navigate Student Quick Start Guide (1)
Need assistance or have questions?  Contact us at navigate@uca.edu or call Student Success at 501-852-2117.