Cinderella's Closet is a fundraiser hosted annually in the Spring semester by the UCA Panhellenic Council. Cinderella's Closet provides an opportunity for local high school students to buy a formal dress for upcoming proms, formals, etc. at the price of $10 per dress. Proceeds from this fundraiser will go directly to the B+ Foundation. The B+ Foundation is about Kids Helping Kids Fight Cancer by providing financial and emotional support to families of children with cancer nationwide and funding critical, cutting-edge childhood cancer research.
More information regarding the work that the B+ Foundation is doing can be found on their website: https://www.bepositive.org/
Spring 2023 Event: 
This year's Cinderella's Closet event will take place on Sunday, March 12, 2023 from 2 pm – 4 pm in the UCA Student Center Ballroom Room 205A/B.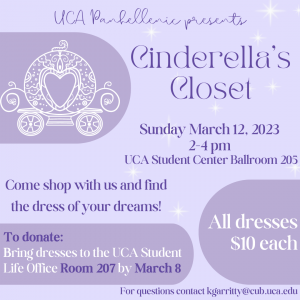 Location: 
http://pplant.uca.edu/MFP/CampusMaps/B-W%20Map.pdf 
Contact:
For questions regarding this event or if you'd like to make a dress donation, please reach out to the following members of our Executive Council:
Kylie Garritty, Panhellenic VP of Development – kgarritty@cub.uca.edu
Brittney Bowman, Panhellenic President, ucapanhellenicprez@gmail.com
Donations: 
Our closet runs solely on donations so we take them year-round. Dresses can be taken to the Office of Student Life M-F, 8 am – 4:00 pm at the Student Life Office located in the UCA Student Center Suite 207. Dresses of all styles, sizes, and colors are welcomed.