Cinderella's Closet is hosted by the women of the Panhellenic Council. The goal of Cinderella's Closet is to provide an opportunity for high school girls to buy a dress for $10.
Spring 2020 Event: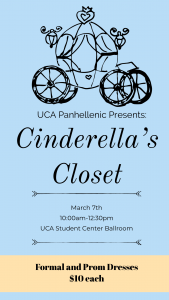 Location: 
University of Central Arkansas Campus
Student Center Ballroom
201 S. Donaghey Ave, Conway, AR 72035
http://pplant.uca.edu/MFP/CampusMaps/B-W%20Map.pdf
Contact:
Emily Hambuchen, VP of Development, ucapanhellenicvpofdevelopment@gmail.com
Priya Gopal, Panhellenic President, ucapanhellenicprez@gmail.com
Donations: 
Our closet runs solely on donations so we take them year round. You can drop off dresses M-F, 8am-4:30pm to the Office of Student Life on the 2nd floor of the UCA Student Center. If you need arrange for a pickup, please contact Priya Gopal.
**Are you a graduating senior and interested in learning more about UCA sorority life? Attend our summer preview day!