The University of Central Arkansas College of Arts, Humanities, and Social Sciences (CAHSS) will unveil art installations and host a public suffrage sing-along and poetry performance Tuesday, Oct. 20, as a continuation of its Suffrage Centennial celebration. All installations and events will take place outside in Alumni Circle on the UCA campus.
From 1:40-2:30 p.m., UCA will host the unveiling of three art installations: "Suffrage Rugs" by New York artist Sharon Louden, "United: The Acorn Project" by UCA art faculty member Liz Smith and "CitiZINE Project" by UCA staff members Lesley Graybeal and Kristen Spickard.
"Suffrage Rugs" is a sculptural installation that covers the ground and incorporates Arkansas-sourced materials such as white sand, rock, recycled colored rubber mulch and  colored glass to create "rugs." Louden collaborated with six women students on the project, which is designed to be barrier-free and walked upon.
"We are so thrilled, despite the many logistical challenges of making monumental art during a pandemic, to bring Louden's 'Suffrage Rugs' to Arkansas, said Gayle Seymour, associate dean of the College of Arts, Humanities, and Social Sciences and co-producer, along with Conway writer Jennifer Deering, of the Suffrage Centennial events. "In their iconographic program, the rugs contain abstracted forms, such as caged birds, broken hearts, sunflowers, and arrows, which reference both the oppression experienced by the suffragists and the resilience of women in their fight for the vote. Many of the designs also reference lesser-known BIPOC women who were part of the suffrage story including Black activist Ida B. Wells-Barnett (1862-1931), Latina politician Nina Otero-Warren (1881-1965), Chinese-American economist Dr. Mabel Ping-Hua, and Chippewa attorney Marie Louise Bottineau Baldwin (1863-1952)."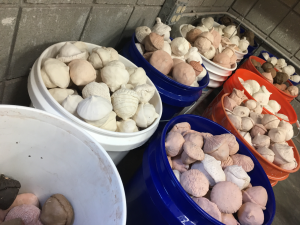 Alongside Louden's work, UCA ceramics professor Liz Smith will unveil her installation "United: The Acorn Project," which includes 3,000 acorns handmade by students and other individuals on campus and around the state. The acorns are made from seven different colors of clay that represent the diversity of the state of Arkansas. The installation will be arranged to form a large-scale representation of the U.S. flag.
"'United: The Acorn Project' is a metaphor for the importance of representative government that is created by ALL the people for ALL the people," said Smith. "The acorn represents the power of a single vote, as a small acorn grows into a mighty and lasting oak tree, so each of our votes has the power to develop into powerful and long-standing legislation. It is only through the diverse array of us uniting together to vote that we can create a government that serves the needs of the many in these United States rather than the few."
Selected pages and enlarged prints from the "CitiZINE Project" will also be displayed in Alumni Circle. This installation is the culmination of several virtual zine-making workshops hosted by UCA community outreach coordinator Lesley Graybeal and graphic designer Kristen Spickard for students and community members. Workshop attendees made small, eight-page booklets that explored what it means, within the context of the suffrage centennial, to be a citizen and how citizens can come together to develop empathy for each other.
At 6:30 p.m. and 7:30 p.m., during two in-person, 30-minute performances, UCA music instructor Jaimee Jensen-McDaniel will host a karaoke-style Suffrage Centennial sing-along devoted to suffrage protest songs, a nod to the fact that when suffragists were not allowed to speak in public, they sang. A virtual choir, coordinated by UCA choral director Kevin Coker, together with text highlighted by a bouncing ball, animated by UCA art professor Scott Meador, will be projected on a large screen on Old Main to assist attendees. Along with the sing-along, creative writing students will perform persona poetry, capturing the lived experiences of notable suffragists, including Gertrude Watkins (1884-1938) and Alice Paul (1885-1977). The evening will be completed with the premiere screening of a combined 2D/3D computer animation of the "Suffrage Rugs" by Sharon Louden and Brian Clyne, which will run in a continuous loop during the evening. Attendance will be limited and attendees will be provided with an ASTM level-2 face mask recommended for singers.
All events are free and open to the public. Social distancing will be strictly enforced at all live events, and masks will be required. Those who would rather attend virtually may watch a livestream on the CAHSS Facebook page here.
The Suffrage Centennial project is supported in part by an award from the National Endowment for the Arts. To find out more about how National Endowment for the Arts grants impact individuals and communities, visit arts.gov. Other sources of funding include Arkansas Arts Council, Delta Kappa Gamma Educational Foundation, Kappa State Educational Foundation, Mid-America Arts Alliance, the UCA Artists in Residence program funded by Arts Fees, UCA Foundation, UCA Sponsored Programs, UCA Women's Giving Circle, Pat-Becker Wallis and gifts from generous donors.