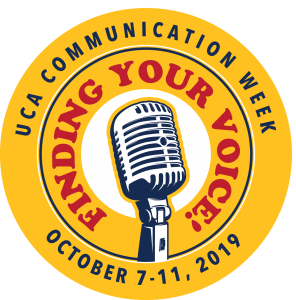 By Shelby K. Grimes
College of Fine Arts and Communication Media Office
The University of Central Arkansas School of Communication will celebrate Communication Week, a series of events that promote awareness of the important role communication plays in the professional and personal lives of every individual, Oct. 7-11.
The theme this year is "Finding Your Voice."
All events are free and open to the public and will be held on the UCA campus.
"Our vision is for discussions that address diversity, inclusion, free speech and professional tools for expression," said Dylan McLemore, assistant professor of public relations and chairman of the School of Communication's events committee.
Veteran journalist, political analyst, University of Memphis professor and author Otis Sanford will kick off the four-day event with a keynote address titled "Finding Your Voice to Change Your World" at 6:30 p.m. Monday, Oct. 7 in McCastlain Hall's Fireplace Room.
Three events are scheduled for Tuesday, Oct. 8, including:
Debate and Forensics Individual Showcase: 1:40-2:30 p.m., Thompson Hall foyer

Google Research Tools Demonstration: 1:45-4:30 p.m., College of Business room 210

Public Debate on Diversity and Free Expression on Campus: 6-7:30 p.m., McCastlain Ballroom. Members of the Debate and Forensics Team will consider the state of free expression on campuses and whether universities should promote diversity over remaining politically neutral.
Alumni panels, which provide opportunities for students to hear about the versatility of their degrees from UCA School of Communication grads, are scheduled for Oct. 9 and 10. On Wednesday, Oct. 9, the panel will feature journalism and public relations graduates Stephen Simpson with the Arkansas Democrat-Gazette; attorney Betsy Baker of Rose Law Firm; Rebekah Fincher with Conway Regional Medical Center; and Ashley Godwin of THV11. The panel discussion will begin at 2 p.m. in the Thompson Hall foyer.
On Thursday, Oct. 10, communication and writing graduates will be featured. Writing graduates Madelyn Gregg with Rock City Digital and Elise Williams with Inuvo will join communication alumni Daniel Curry with First United Methodist Church of Benton and Taylor Weston with Sifted at 1:40 p.m. in the Thompson Hall foyer.
Also on Thursday, the "Hillard Speech Showcase" is scheduled for 6-8 p.m. in Stanley Russ Hall room 103. Judges for this contest include UCA faculty John Gale, Anthony McMullen and Christopher Roland.
Communication Week will conclude Friday, Oct. 11 with "Journalism Day," which will take place from 9:30 a.m. to noon at Reynolds Performance Hall. This event will feature John Brummett from the Arkansas Democrat-Gazette and Gwen Moritz of Arkansas Business Publishing Group.
For more information, contact McLemore at dmclemore@uca.edu.
The UCA College of Fine Arts and Communication includes the Departments of Art, Music, and Film, Theatre and Creative Writing, as well as the School of Communication. The College's primary mission is the preparation of the next generation of artists, educators and communicators. For more information about CFAC, visit uca.edu/cfac or call (501) 450-3293.