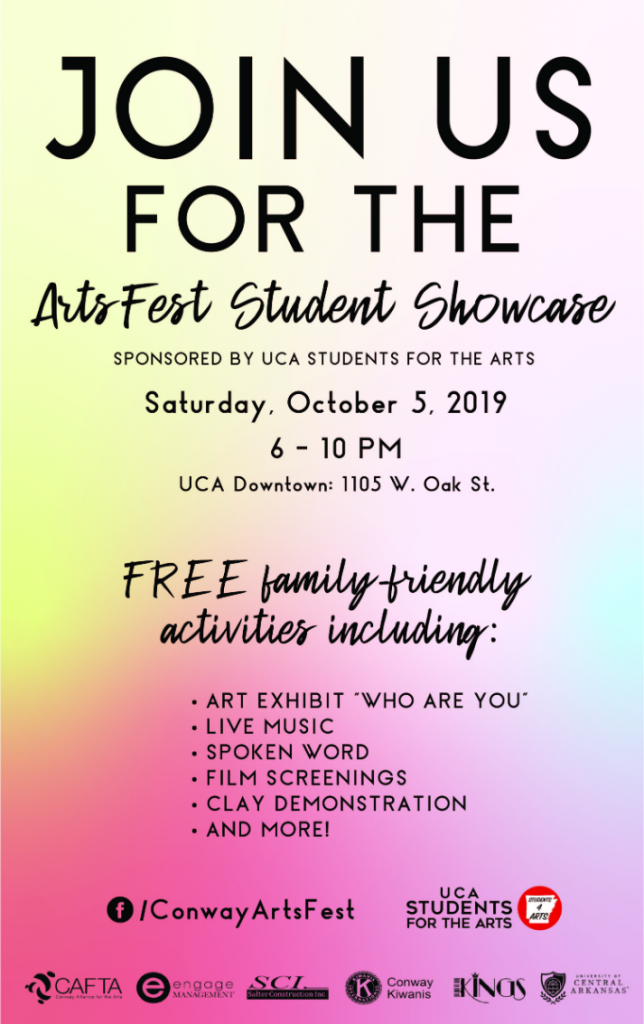 Students for the Arts at the University of Central Arkansas will host an art showcase from 6-10 p.m. Saturday, Oct. 5 at UCA Downtown, located at 1105 W. Oak St. in downtown Conway.
This free, family-friendly event includes an art exhibit titled "Who Are You?," live music, spoken word, film screenings, clay demonstrations and much more.
The art exhibit features student artists Bobby Miller with "Missing Home" and "Untitled"; Monika Cunningham with "Reflection" and "Hushed Apathy"; Savannah Pelley with "We Have Risen from the Depths"; Wes Hart with "Benign Biscuit Head: Episode 1"; Andrean Sanchez with "Untitled"; Madison Conklin with "Hard Pill to Swallow;" Louise Mandumbwa with "Untitled"; and JR Landers with "Being of Emotion."
Here is a complete program of events for Oct. 5: 
6-6:25 p.m.:  Live painting by Monika Cunningham
6:30-6:55 p.m.: Spoken word performed by Brandy Lucas, B. Betrand and Eddie Guinee
7-7:25 p.m.: Clay demonstration by UCA Clay Club
7:30-7:55 p.m.: Short film presentations by Sophie Barnes and Film Club
8-8:25 p.m.: Live music by Deshon Washington
8:30-8:55 p.m.: Spoken word performed by Riley Hope, Gabrielle Thurman and Brooke Brasel
9-9:25 p.m.: Clay demonstration by the UCA Clay Club
9:30-9:55 p.m.: Live music or film
 Peter Bella, graphic design professor at UCA, served as the juror for art selection. The art exhibit was curated by Nakeya Palmer, UCA art history student.
The student artwork will remain on display at UCA Downtown until Friday, Oct. 25.
UCA Students for the Arts is comprised of students who advocate for the advancement and promotion of the arts, arts education and the creative economy in Arkansas. Its mission is to foster a cross-disciplinary community of students who share a love of art. Serving as the campus arm of Arkansans for the Arts, itself a subgroup of Americans for the Arts, UCA's student chapter is the first of its kind in the nation. Students learn how to advocate for local, state and national legislative initiatives that affect the art economy.
For more information about this exhibit, visit uca.edu/downtown. For more information about UCA Students for the Arts, visit the group's Facebook page.