Letter from 2023-2024 IDEAL Director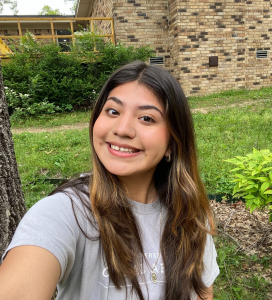 I could not be more excited to see you are interested in our IDEAL program! IDEAL is the perfect organization to be a part of as a freshman on campus. This organization focuses on your personal development throughout your time here at UCA! One of my favorite things about this program is the connections you'll make with your peers and alumni leaders. Alumni leaders will serve as great mentors for you to talk to or ask any questions! Our alumni leaders will invite you to their rotation groups.Rotation groups are woven into the organization to hang out, ask questions about college, learn more about IDEAL, and etc.! This upcoming year is full of excitement and new ways to impact your time in this organization! I'm looking forward to meeting you and hope you're eager to be a part of this organization! If you have any questions, please feel free to contact me at (870)-279-1906!
Edith Resendiz, the 2023-2024 IDEAL Student Director
2023-2024 IDEAL Alumni Leaders
Sarina Patel – North Little Rock, AR
Nursing Major – Junior
IDEAL was really the best way for me to get out of my comfort zone and make those connections people always talk about. I met my best friends in IDEAL and was exposed to so many opportunities. Because of IDEAL, I joined UCA Ambassadors, AFA, and Honors Ambassadors. IDEAL allows freshmen to branch out and meet new people, all while strengthening their leadership skills. I could not have asked for a better freshman experience!
Campbell Stewart – Germantown, TN
Communication Sciences & Disorders Major – Sophomore
Coming from out of state and not knowing a lot of people that we going to UCA, joining IDEAL was one of the best decisions that I made last year. The program helped me to meet so many other freshmen and encouraged me to get involved on campus. IDEAL encouraged me to apply for various leadership roles in my sorority and church. IDEAL really is like a family and provides such an amazing opportunity to branch out, meet new people, and learn leadership skills.
Tim Bussiere – Bentonville, AR
Finance Major – Junior
IDEAL was the first organization I was ever a part of at UCA, and it was the highlight of my freshman experience. The program introduced me to some of my closest friends while providing me opportunities to get involved with other RSOs, such as SOS, Ambassadors, and NSLS. College can be a scary, new experience, and IDEAL can be your support while navigating your college experience. I can't wait to see how you all will grow as leaders.
Reese Aldy – Little Rock, AR
Marketing Major – Junior
The IDEAL program will always be near and dear to my heart. It was the first organization I joined on campus my freshman year. Coming to college is super intimidating and it's sometimes hard to make new friends. But with IDEAL, I was able to find a group that I could be myself around and people who I knew would always be there to support me! IDEAL not only helps you grow as a leader, but it allows you to learn a lot about yourself as a peer as well as a leader! I can't wait to continue growing with you all!
Michael Isaac – West Memphis, AR
Accounting Major – Junior
IDEAL is a program that helps freshmen find their voice. When I was a freshman, I had a tough time figuring out what I wanted to gain from UCA, and I never pictured myself as a leader. But when I joined IDEAL, I was shown many ways to get involved on and off campus. I also discovered I wanted to be a voice for students like me: who have trouble finding their voice and standing out in a room of people who seem to have their entire lives mapped out. IDEAL has taught me that through authenticity and courage, anyone can be a leader. I have used this knowledge to help me in many organizations across campus such as, College of Business Ambassadors, Biz@Bear, First-Gen, Relay for life, etc. IDEAL has helped me find my voice as a leader. I hope that when you join the program you will find ways to use your voice with as much courage and authenticity as possible, so you too can shape and grow the campus as the leader I know you will become.
Maddie Gilleran – Hot Springs, AR
FCS Education Major – Junior
IDEAL is the place to make the best of friends, learn a lot about yourself and your leadership abilities, and make that transition to college much easier.  When I came to UCA, I was that shy kid who needed to strengthen my leadership development.  But, IDEAL has continued to give me so many wonderful opportunities, connections, and skills that have shaped me into the person I am today.  Not only has IDEAL given me some of my best friends and experiences at UCA, but I have been able to join UCA Ambassadors and AAFCS because of it.  I am thrilled to see you all grow this year as you discover who you are as a leader, form lasting relationships, cherish these memories, and make an impact on our university!
Anna Herrin – White Hall, AR
Pre-OT Health Promotions Major – Sophomore
As a freshmen, you do not have a lot of opportunities to gain important skills or just get involved on campus. IDEAL gives you a voice to be heard while you navigate your challenging freshmen year. I was able to become comfortable with who I am in a very welcoming environment that IDEAL made for me. I looked forward to the meetings and it quickly became my favorite thing on campus. No matter what day, someone in IDEAL will be on campus to give you a toothy grin! I made the best friendships from this terrific organization and will forever be grateful for it. IDEAL was my gateway into numerous organizations I have joined since. Here's other RSOs  I'm a part of: UCA Ambassador Program, Feminist Union and SPOT.
Emily Tomlinson – Atkins, AR
Marketing Major – Sophomore
During my freshman year, I felt super overwhelmed when it came to joining different RSOs and learning how to get involved on campus. IDEAL gave me all the information and skills to get involved on campus and make a difference. Some organizations I am now a part of are the Association of Future Alumni, UCA Big Event, College of Business Ambassadors, and UCA Ambassadors. IDEAL gave me an opportunity to be around so many people looking to be involved. I have gained so many friendships and skills from this experience and can't wait to see what this next year brings!
Sanjuana Torres Padron – Little Rock, AR
Political Science and Public Administration Double Major – Sophomore
Joining IDEAL was crucial to finding my confidence on campus. As a freshman it can be difficult to put yourself out there and to know where you fit in, and thanks to IDEAL I was able to find my place. IDEAL has given me so many opportunities and experiences that helped shape the leader I want to be. The program was where I met my best friends and soon became something that I did not want to miss. Not only did IDEAL give me great people but it also helped me get more involved on campus. UCA Ambassadors, Public Administration Club, and First-Gen Scholars are RSOs that I am involved in. If you are looking for a place where you will be welcomed with open arms and become a great leader, IDEAL is the right place for you!
Angela Y. Gutierrez – Horatio, AR
Psychology Major & Criminology Minor – Senior
Being introduced to IDEAL during my freshman year was the absolute best! Not only did I make many connections and friendships with others in the organization, I was also able to learn more about me, my personality, leadership capabilities, and skills I can bring to the table. IDEAL set the pathway for me on campus, and now I am proud to say that I serve as a UCA Ambassador, LSA Historian, and now an Alumni leader for IDEAL! I'm very excited to meet all of the incoming IDEALers, and serve as a helping hand and representation for you!