The Gender Studies minor program hosts events and activities every year that are distinct from the Lecture Series. This programming is developed to create interactive experiences and allow voices from UCA and the larger population to contribute to the discourse that is being used to cultivate critical thinking and research on gender issues.
________________________________________________________
Jenny Davis, Kate Vincent, and Reesa Ramsahai will present following a safety walk around campus. This event will offer support and resources to those people–of all genders–impacted by domestic and sexual violence.
________________________________________________________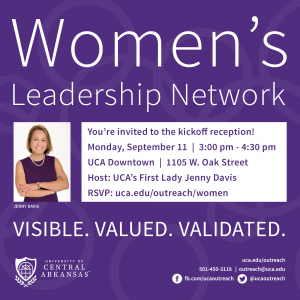 Through a partnership with UCA Outreach, the President's Office, and Institutional Diversity, Gender Studies is proud to co-sponsor an ongoing series of activities for the new Women's Leadership Network at UCA. Come to sign up to be a mentor or mentee, come meet other women who will work to build a community of women in leadership positions across all paths of life. Jenny Davis will give remarks at 3:30 PM, but the opening reception is a drop-in event! For more questions, contact UCA Outreach.
____________________________________________________________________
Chelsea Harry from Southern Connecticut State University will be presenting a talk as part of her book project Function, Flourishing, and Fair Treatment: An Aristotelian Argument for Non-Human Animal Well-Being; her talk will be titled "The Non-Human Animal as Posthuman: Cognitive Capacity and Questions of Fair Treatment" and will take place Monday, March 27 at 7 PM in the COB Auditorium. All are welcome to attend, and a reception will follow!
____________________________________________________________________
American Masters film Maya Angelou: And Still I Rise Preview Screening and Panel Discussion
Panelists are
*Janis F. Kearney, Founding President of the Celebrate! Maya Project
*Dr. Stacy Lettman, Assistant Professor of English at UCA
*Dr. Monika Alston-Miller, Associate Professor of Communication at UCA
with Dr. Taine Duncan, Associate Professor of Philosophy and Director of Gender Studies moderating
February 27, 2017, 6 PM, Doyne Health Science Center Auditorium
____________________________________________________________________
One Billion Rising
February 15, 2017, 11 AM-3 PM, Student Center 215
For this year's 1BR (http://www.onebillionrising.org/), students in two Gender Studies classes and an Honors seminar are hosting an Advocacy Service Learning project in the Student Center. Come by and workshop strategies for resisting sexual and domestic violence by participating in 6 different activities–including making zines about intersectionality, taking insta-selfies for body positivity, and strategizing about bystander intervention. And don't forget to make a solidarity video for the international human rights organization and movement One Billion Rising! Students who complete all 6 stations will be entered into a drawing for a door prize, and there is a SNACK reception!
____________________________________________________________________
Dr. Beverly Lyn-Cook

March 3th, 2016, X-Period, Student Center 203B
"Women in STEM Careers: Exploring your options" presented by Dr. Beverly Lyn-­Cook.  Dr.
Cook, senior interdisciplinary research Biologist in the Department of Biochemical Toxicology
at the FDA/National Center for Toxicological Research (NCTR) will speak about her experience
within the agency and answer questions regarding regulatory STEM careers.  Dr. Lyn-­Cook has
vast research experience in the areas of cell and molecular biology, pharmacogenomics and
epigenomics and her research expertise is in the area of pancreatic and breast cancer.  Students, faculty, and non-UCA folks are encouraged to attend. The panel discussion is FREE, and it is open to the public! (Post-event announcement: as Dr. Lyn-Cook mentioned, students may contact her to find out about upcoming internships, research opportunities, and jobs at the NCTR. Use the contact information linked below.)

Beverly Lyn-Cook, PhD
NCTR's Coordinator of Women's Health Research
Division of Biochemical Toxicology
National Center for Toxicological Research
Jefferson, Arkansas 72079
Office: 870 543-7965
Labs: 870 543-7913 or 7357
____________________________________________________________________
Rhonda McClellan
March 9th, 2015
UCA's own Dr. Rhonda McClellan, Director of the Leadership Studies PhD Program, will present research about the education of women and girls in Arkansas with a panel of students and fellow researchers. The event will consist of panel discussion and highly encourage audience participation. Students, faculty, and non-UCA folks are encouraged to attend. The panel discussion is FREE, FREE FOOD will be provided in the reception that will follow and it is open to the public!
____________________________________________________________________
Undergraduate Research Symposium
March 4th, 2015 (Rescheduled for March 30th)
Student Center Auditorium 2:00 – 4:00
The Gender Studies Program will host an Undergraduate Research Symposium on Gender. Students are encouraged to submit a paper on any gender studies theme in order to practice delivering their research and receive feedback from faculty. The Undergraduate Research Symposium is open to all students in all departments but paper topics are constrained to gender study issues. A panel of top papers from the Gender Studies Research Symposium will be chosen to participate in the College of Liberal Arts Research Symposium that will take place on April 23rd. Submissions should be sent to Dr. Taine Duncan, tduncan@uca.edu, by February 13th, 2015.
________________________________________________________________________
Maggie Jackson
March 3rd, 2015
Maggie Jackson is an award-winning author and former Boston Globe columnist known for her insights about technology's impact on humanity. The author of several books, including the positively reviewed Distracted (2008), Ms. Jackson will speak about making sense of what means to be human in an age of technology. A book signing an reception will follow.
________________________________________________________________________
1 Billion Rising: A Revolution
9:00 am- 3:00 pm, February 13th, 2015
Student Center
The One Billion Rising campaign began in 2012 with the intent to spread awareness on the violence against women on a global scale. 1 in 3 women worldwide will experience physical or sexual violence throughout her lifetime—that is ONE BILLION WOMEN AND GIRLS. The campaign is dedicated to creating a new sense of consciousness in which violence is resisted until it becomes unthinkable. With the success of One Billion Rising and One Billion Rising for Justice Campaign, this February will bring the Revolution, in which we hope you will join One Billion Rising in spreading awareness, dancing, and rise in defiance of the injustices against gender violence. For more information please visit www.onebillionrising.org. #UCARising
__________________________________________________________________________
National Coming Out Day:
HRC Presents Chad Griffin and Dustin Lance Black
October 13, 2014
"Whether you're lesbian, gay, bisexual or transgender, or whether you are a straight ally, coming out is the single most powerful way to change the world. Even though sign of progress toward equality sweep across the country, one critical point remains–coming out still matters." HRC
On October 13, 2014, Chad Griffin, President of the Human Rights Campaign, and Dustin Lance Black, academy award winning screenwriter for MILK. will participate in a panel discussion in recognition of National Coming Out Day. Chad Griffin is an Arkansas native who has been named one of The Advocate's people of the year, and recently named one of the most influential out Washingtonians by the Washington Post. Dust Lance Black is a screenwriter, producer, director and social activist, having won the Academy Award and two WGA Awards for Best Original Screenplay for MILK. He is also a founding board member of the American Foundation for Equal Rights (AFER) which successfully led the Federal Case against Prop 8 in California and and continues to work for LGBT equality today. 
The panel is sponsored by the Office of Diversity and Community, UCA Counseling Center, I.D.E.A.L Leadership Group, Student Government Association, Housing and Residence Life, Student Life, College of Fine Arts and Communication, Psychology and Counseling Department, UCA Police Department, Office of Student Wellness and Development, Disability Resource Center, Gender Studies, P.R.I.S.M. Alliance, Feminist Union, UCA Psychological Association, and the Residential College Program.
Dr. Taine Duncan, assistant professor and director of the Gender Studies Program, will moderate the panel.
__________________________________________________________________________
Challenge Week: The State of the Dream in Arkansas
Women's Rights Panel
October 22, 2013
Challenge Week 2013 convenes October 25-30 as a community-wide conversation on the state of civil rights in Arkansas for female, African-American, and gay citizens. The Nobert O. Schedler Honors College hosts the campus-and community-wide conversation annually about a topic of current and lasting significance, inviting national, regional, and local speakers to address aspects of the topic in a week-long series of events. 
 The panel on Women's Rights, part of Challenge Week 2013: The State of the Dream in Arkansas will take place in Doyne Health Science Center Auditorium, Monday, October 28, 3-4:30 pm. Taine Duncan, director of the UCA Gender Studies Program, will moderate the panel. Our participants are former state representative Linda Tyler; sociology faculty member Rifat Akhter; and interim CNSM dean Stephen Addison.