Executive M.A. in Sport Management HomeCareersCoursesAdmissionContact Us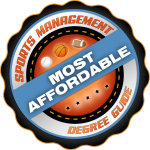 Welcome to the online Executive Master of Arts in Sport Management program offered by the Department of Exercise and Sport Science.
Our program is designed to provide a comprehensive and intensive learning experience that will enhance your knowledge and understanding of the sport management industry.
Our program covers a broad range of topics within the sport management discipline, including marketing, leadership, communication, legal, and financial aspects of the sport industry.
Our online format is perfect for working professionals who are looking to take their careers to the next level. We offer a flexible and convenient way to obtain an advanced degree in sport management while still maintaining your current work commitments.
With our executive-style program, you can complete the degree in just 20 months while still enrolled in 8-week courses (2 courses per semester).
We strive to provide our students with a deep level of understanding within each topic through our online learning environment. Our aim is to support your career goals and help you achieve success in the sport industry.
Join us today and take the next step toward advancing your career in sport management!