Our Mission
The Child Study Center serves as a valuable preschool experience for children in the community. We develop our curriculum to meet the individual needs of the children that are enrolled. We are also an integral part of degree programs at UCA. We are a place where university students from various majors complete field experience that provides them with concrete examples of what is being taught in the classroom.
Accreditation
The UCA Child Study Center is the only childcare center in Faulkner County that has obtained national accreditation by the National Association for the Education of Young Children. NAEYC provides valuable resources for families here http://families.naeyc.org/ . The Child Study Center also maintains a three star rating through the Better Beginning Program. Additional information about the Better Beginnings Program can be found at www.arbetterbeginnings.com. We do not take these accreditations lightly. We strive to continue to improve to provide the best education for your preschooler.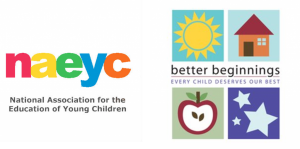 Curriculum
The Child Study Center offers a hands-on, developmental approach to early childhood education that strives to meet the needs of the whole child. The curriculum is individualized based on specific learning needs of young children enrolled in the program.   Each day, children are given opportunities in all areas of development (cognitive, social, emotional, language, and motor) through whole group experiences, small group experiences, learning centers, and outdoor play. The teachers use the Arkansas Early Childhood Frameworks as a basis for developing daily lesson plans.   Our classroom teachers are all certified teachers with experience in early childhood classrooms.
Eligibility
All children must be 3 or 4 years of age by August 1st to be eligible for our program. We developed our eligibility guidelines based on public school kindergarten eligibility. We accept all children regardless of ability level and believe that both children with disabilities and typically developing children can thrive together in an appropriate environment. Therapies can be provided during the school day, if needed.
Operating Hours/Calendar
We open at 7:45 a.m. each school day. Our three year old classes end at 12:00 p.m. and our four year old classes end at 3:00 p.m. We follow UCA's calendar and are open during the fall and spring semesters. We do close one time per year to allow the teachers to attend a professional conference. A school calendar with important dates is issued to each family at enrollment.
We offer extended care until 5:00 p.m. for the 4 year old classes (there is an additional fee for extended care).
Tuition/Fees
A $100 non-refundable registration fee is due for each child enrolled. Tuition can be paid by the year, by the semester, or in 8 equal installments (September-April). Tuition is not tied to the number of days that a child attends. The current tuition schedule is as follows:
Class

Yearly Tuition

Semester Tuition

(September & January)

8 Installments

(September-April)

3 Year Old
M/W or Tues/Thurs

$1120

$560

$140

4 Year Old
Monday-Friday

$2720

$1360

$340

4 Year Old
Mon/Wed/Fri

$1840

$920

$230

4 Year Old
Tues/Thurs

$1280

$640

$160
Tuition is due on the 1st of each month (with the exception of January since we are out for Christmas Break). Late fees are charged after the 7th of each month.