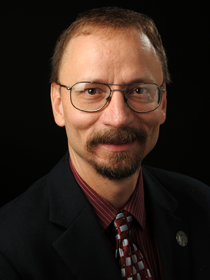 Steven W. Runge was named Provost and Vice President for Academic Affairs today during a special teleconference meeting of the UCA Board of Trustees. Runge had served as Interim Provost and Vice President for Academic Affairs since February 27, 2012.
The board unanimously approved a resolution making the appointment.
"It's fun to know I'll be able to continue working with these great people to continue to move the university forward," Runge said.
In a brief presentation to the board, UCA President Tom Courtway spoke about Runge's experience working at the university starting in the classroom as an assistant professor in 1991 and why he supports Runge's appointment.
"For 367 days, he's had a job interview. He's performed the job as interim provost and vice president of academic affairs for that length of time. He's done his job admirably, honestly and to the best of his ability, and I think he possesses all the qualifications that this university needs for the position of provost and vice president of academic affairs," he stated. "In short, in my opinion, he has earned the job."
Courtway said he consulted with the UCA Faculty Senate about his decision to make the recommendation to the board that Runge be appointed. That body concurred.
Kevin Browne, president of the UCA Faculty Senate, said during the meeting, "We widely and deeply appreciate the job that Dr. Runge has done."
"It's very humbling for me to be recognized by the faculty senate and by the president when there are so many other people doing great things at the university," Runge said.
As provost and vice president for academic affairs, Runge now oversees each of the university's six academic colleges, the graduate school, the Norbert O. Schedler Honors College, as well as other university divisions.
"I think it's a really good opportunity for me to continue the work we have started over the last year," Runge said pointing to the implementation of the new UCA general education core and the doctorate of nursing practice degree as examples.
Runge joined UCA as an assistant professor in the Department of Biology in 1991, earning the rank of associate professor in 1995 and the rank of professor in 2004. Runge was appointed interim chair of the Department of Biology in 2003, with a subsequent appointment to the chair in 2004. He served in this capacity until 2009 when he was appointed as interim dean of the College of Natural Sciences and Mathematics, and he assumed the position of dean of the college in July 2010.