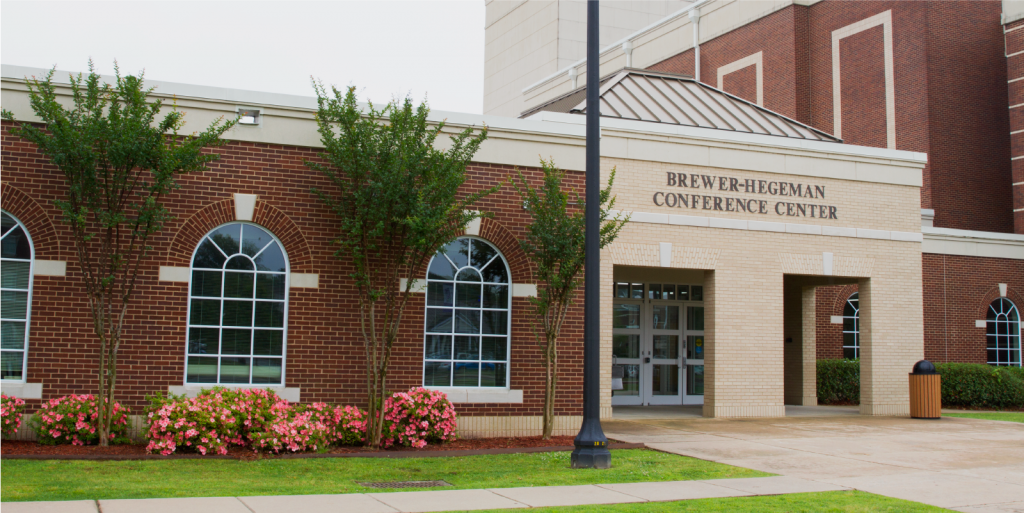 Conference Services is part of the Division of Outreach & Community Engagement at the University of Central Arkansas.
Conference Services is setting new and higher standards of excellence for the conferencing and event planning needs of associations, businesses and community groups.
OUR BUILDING'S NAME AND BEGINNING
Funded by a $2.25 million contribution from the Conway Corporation, the Brewer-Hegeman Conference Center is named for James Brewer and William Hegeman, two former Conway Corporation employees whose dedication and efforts helped make the contribution – and the Conference Center – a reality.  Their visionary goal and accomplishment was to make the Conference Center part of a $22-million complex on the campus of UCA. They succeeded.  Thus the many benefits of the Conference Center include outstanding adjacent facilities, including the Donald W. Reynolds Performance Hall.
Here for your use and enjoyment is a comfortable and stimulating environment, an eager event staff and the latest tools for communications and multi-media.  We are located on the beautiful campus of UCA in Conway, which is convenient to Little Rock–just a short drive from the State Capitol building, Clinton Presidential Library, Little Rock River Market and the Little Rock National Airport.
With 6,500 square feet of meeting space and the potential for seven conference rooms, the Brewer-Hegeman Conference Center can easily accommodate over 500 people in its entirety or 200 people in the largest room.
SPECIAL FEATURES
Wireless Internet through out conference center
Audio/visual equipment and support
Full-service catering by UCA Culinary Services
Conference planning and coordination
On-site event support
We are also happy to help you reserve any of the other great locations we have available on and off campus. Please don't hesitate to ask about our other options.
Call on Conference Services to schedule your next meeting or event
at the Brewer-Hegeman Conference Center or any of our other locations (501) 852-2699