National History Day Arkansas
Every day is History Day!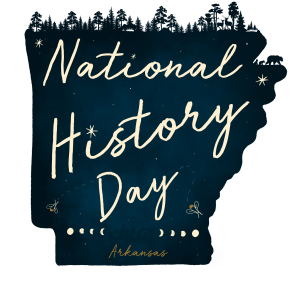 Like us on Facebook at National History Day Arkansas
What is History Day?
National History Day is a highly regarded academic program for elementary and secondary school students. History Day in Arkansas is part of the National History Day network.
Each year more than half a million students, encouraged by thousands of teachers nationwide, participate in History Day.  Students choose a historical topic related to a theme and conduct extensive research through libraries, archives, museums, oral history interviews, and historic sites. After analyzing and interpreting their sources and drawing conclusions about their topics' significance in history, students develop creative presentations to share what they have learned with others. Students compete in the spring at local and state levels. Top entries from each state compete in June at the Kenneth E. Behring National Contest held at the University of Maryland.
Why Participate?
Many different people participate in the NHD program:
Students
Teachers
Colleges and Universities
Libraries, Museums, and Archives
Community Businesses
The NHD program serves as a vehicle to teach students important literacy skills and to engage them in the use and understanding of museum and library resources. The program inspires students to study local history, and then challenges them to expand their thinking and apply knowledge of local events to the national, or even worldwide scene. The program also teaches students to become technologically literate through the use of computer and Internet research methods, and the use of technologically advanced applications in their presentations.
"The true benefits from participating in National History Day go way past a certificate or medal. The program teaches kids the writing, analytical understanding, and reading comprehension skills that will make them a success in life, no matter what their career."

parent Susan Moose
Students who participate in History Day gain skills they will use for the rest of their lives.  They
Learn the research process used by professional historians.
Develop communication skills.
Gain expert knowledge in historical subjects.
Meet new people and make new friends.
Experience the excitement of competition.
How do I get involved?
National History Day Arkansas supports students and teachers through a network of parents, schools, judges, and interested members of the public.
Students work individually or as a team to complete a project in one of five categories: original papers, websites, exhibits, performances and documentaries. Read through the History Day How To to learn about the rules and how to register.
If you are a teacher, see our Teacher Resources page for the rules and how to use History Day in your classroom.
Judges are critical to History Day. We are looking for individuals with experience and interest in history, the humanities, or education to provide a constructive critique to students to not only determine the top entries, but also to help students become better historians. If you are interested in judging, visit the Judges Resources page.
If you would like to support History Day in Arkansas: learn more about the local and state contest and become a Friend of History Day.
Contact Us
For answers to your History Day Arkansas questions, please contact
Our History
National History Day (NHD) originated as a small, local contest in Cleveland, Ohio in 1974, when Dr. David Van Tassel and members of the Department of History at Case Western Reserve University created a program to help reinvigorate the teaching and learning of history in elementary and secondary schools. The program quickly expanded throughout Ohio and into surrounding Midwestern states before becoming a national program in 1980. With initial support from the National Endowment for the Humanities, NHD expanded during the 1980s and 1990s. Now, 2 million people engage annually from nearly every state in the union and from schools around the world. While the competition itself remains the core of the program, NHD has expanded its services to provide workshops, seminars, and curriculum materials for teachers and summer internships for students. Based in the Washington D.C. area, the NHD organization is supported by volunteers across the country, including those who coordinate its state and local programs. Thousands support the program by serving as contest judges, workshop presenters, mentors, and advisers to students and teachers. Hundreds, based at colleges and universities, historical agencies, and educational organizations, serve as state and district coordinators who direct History Day programs in their areas.
The History Day in Arkansas Program is supported by a grant from the Arkansas Department of Education. It is also sponsored by the University of Central Arkansas. It involves collaboration between teachers, students, historians in colleges and universities, and other museums, historical societies, and archives.