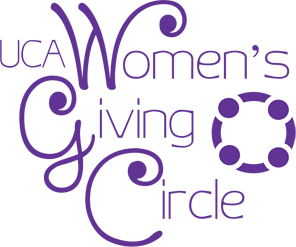 The Women's Giving Circle at the University of Central Arkansas awarded five grants that focus on development opportunities for women and girls during the annual Grant Awards Luncheon in November 2017.
The Women's Giving Circle received 10 applications. Grant awards ranged from $700 to $1,500.
Established in 2014, the Women's Giving Circle encourages unique learning and leadership development opportunities that will enrich the lives of women and girls. Through the financial support of its members, the WGC dedicates resources to award grant funds from women to women, focusing on projects and programs benefiting women and girls.
The 2017-18 UCA Women's Giving Circle grantees were:
Reshape Your Mindset! Power of Growth Mindset for Girls with Reading Deficits –
$1,500 Sunjung Kim, assistant professor, and Caylin Thompson, UCA student
The grant will be used toward a study exploring the contribution of growth mindset to learning performance and motivation of girls with reading deficits, along with the benefits of involvement of female undergraduate students and the community.
The C.D. Wright Women Writers Conference – $1,000 Trisha Cowen, visiting assistant professor, and Sandy Longhorn, assistant professor
The grant was used to help pay for a keynote speaker at the conference, which focuses on women writers from anywhere from journalism to mass market books to literary endeavors and beyond.
Where Two Roads Meet: Lived Experiences of Mother-Students Balancing Home and School – $1,000 Anita Sego, assistant professor, and Denise Demers, assistant professor
The grant was used to help fund a study on how mother-students balance the demands of both home and school simultaneously.
Women in Technology – $800 Mary Condit, Arkansas Coding Academy director
The grant will be used toward scholarships for women who are going through Arkansas Coding Academy programs.
Tell Your Stories: Community Writing Workshops for Women and Girls in Faulkner County – $700 Jennie Case, assistant professor
The grant supports a series of creative writing workshops designed for underserved girls and women in Faulkner County