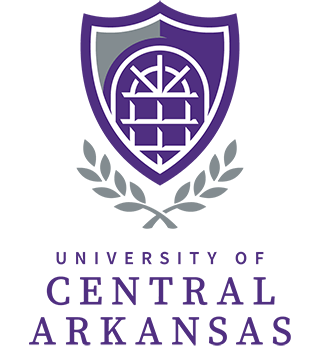 Following a months-long assessment of the University of Central Arkansas brand, communications and recruitment materials, an updated academic logo was unveiled to students, faculty and staff on Friday, Feb. 26, 2016.
"We have developed a comprehensive action plan that will embody the academic integrity and spirit of our University, while also appealing to prospective traditional and nontraditional students alike," said Christina Madsen, associate vice president of communications, public relations and marketing. "The updated logo is simply the beginning of what we have planned for the upcoming months; however, it will serve as the cornerstone for all University brand communications efforts moving forward."
The updated academic logo features a shield, window and laurels, and emphasizes the University's location in Central Arkansas. The crest allows for both official school colors — purple and gray — to be featured prominently.
The overall shape of the logo is an academic shield — a conventional symbol of strength, trust and security. The shield is also a subtle nod to the Great Seal of the State of Arkansas, which was the primary symbol of the institution for many decades.
The window — a long-standing symbol of the school that represents the opportunity to explore new worlds — is prominently featured in campus architecture. In the academic logo, it is reversed out of purple for emphasis and accentuated with subtle lighting details.
As a traditional symbol of academic achievement, the laurels flank the shield and represent the institution's heritage of and commitment to academic excellence. The term baccalaureate is derived from the Latin bacca lauri or "laurel berries," as laurels were traditionally awarded to scholars on the completion of their studies.
"We are proud of our academic heritage and our location in Central Arkansas," said Board Chair Shelia Vaught. "We are excited to create an identity that clearly reflects these elements and incites even more Bear Pride within our community."
Also revealed was a microsite for prospective students, which provides an overview of the University in a series of eight videos and links back to the main website where they may apply, schedule a visit or learn more about a specific area of interest. The microsite may be viewed at GoUCA.com.
New television commercials were also unveiled that highlight successful graduates.
The core message of the campaign also serves as the call to action: "GO HERE. GO ANYWHERE." The campaign takes an "anything is possible" approach with the backdrop of the University's academics and amenities.
New Logo and Campaign Reveal Photo Gallery
Bear Tales – New Marketing Campaign and Logo