At the helm of the University of Central Arkansas Police Department is Chief Larry James, a long time lawman who is also a meteorologist.
"It's always been a funny thing that the chief of police is also a meteorologist," James said.
James has worked in law enforcement for more than 40 years, but he earned a Bachelor of Science in meteorology with a minor in mathematics from San Jose State University, making him a meteorologist by education.
As he visits with colleagues throughout the nation, he has yet to meet another meteorologist who is also a police chief. "It's just assumed that your degree is in sociology or in criminology or police science or something," he said. "When I say, 'No, my degree is in meteorology,' I get the 'huh' face."
James explains that while he was a meteorology student at San Jose State, he was looking for part-time work to help defray tuition. A friend of his, who was also a meteorology student, had started a part-time job on campus and suggested that James apply for the same position, which was as a dispatcher at the campus police department.
"We worked mostly at night," he said, remembering the early days of his career. "I got to see how the police department was handling the protests over the Vietnam War, and I started spending more time at the police department because we were having more and more issues in confronting protesters and people who were participating in sit-ins."
When he graduated in 1973, he initially decided to earn a master's in meteorology. Instead, he accepted an offer to become a campus police officer at San Jose State.
James rose through the ranks at the campus police department. He became deputy chief of police before working as director of administrative services for San Jose State. He took on the role of assistant executive dean at an Oregon community college campus, and then he became director of the Department of Public Safety for the Portland Community College District. At the time, that community college system spanned five campuses with a total enrollment of more than 70,000 students.
In 1993, James moved to Conway where, for more than two decades, he has been chief of police at the UCAPD. In this role, he oversees the safety and security of nearly 12,000 students and 1,500 faculty and staff, as well as countless visitors who come to campus for cultural and sporting events, camps and lectures.
The department is comprised of 28 full-time sworn police officers, nine full-time support staff and several part-time staff. Still, James has never forgotten his roots in meteorology.
"Our dispatchers have all been trained to be able to watch weather and maps and watch the radar and all that," he said. "They can see it on the maps just as easily as I can."
James made certain the department's communications center has equipment and technology, including a 3-D volumetric radar viewer to display and analyze radar data from the National Weather Service.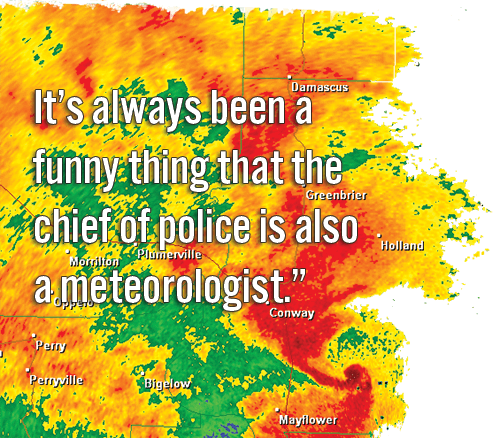 In November 2014, the UCAPD began the Community Safety Education Series, a Web-based informational series on weather- and safety-related topics.
The first installment of the series was "Winter Weather". The second topic was "Fires-Residential". He plans to post at least four series a year, and he sees this as another mechanism of connecting the UCAPD with the community.
"All of our students, faculty and staff have families, so we are trying to not only help our community but our constituents' community," he said. "We have information about what to do at UCA, but if you happen to be at home, this is information for you as well. Whether or not I'm a meteorologist by education, they still look to the police department for advice."
Speaking of advice, he is still grateful for the advice his buddy gave him many years ago.
"If my buddy had not said, 'Hey, you know you can make some money working at the police department,' I never would have thought of it," James said with nostalgia in his voice. "The one thing that changed me was that part-time job that I took."
And what ever happened to that buddy? James chuckled when he said, "Oh, he's a meteorologist for the National Weather Service."