Alumni Association Offers Fun Way for Supporters to 'Bear Your Stripes'
The latest fashion trend to take the UCA campus by storm can't be purchased in stores.
It's a pair of purple and gray wide-striped socks — featuring the logo of every bear's favorite University — and they are only available through the Alumni Association.
The membership campaign, which is the first of its kind, kicked off in July with a series of videos featuring UCA personalities proudly donning their socks all around town.
Titled "Bear Your Stripes," the campaign encourages alumni membership by giving a pair of exclusive spirit socks to anyone who joins or renews their Alumni Association membership. The videos, like the socks, are made to grab attention, but there's more to this campaign than covering "bear" feet."Number one, we want to increase the number of members and number of alumni and friends who are supporting the university," said Jan Newcomer, director of Alumni Services, "but it's also a type of spirit campaign."
Of course, the Alumni Association encourages members to wear the socks — featuring bold stripes with the UCA logo — at games and events on campus. Newcomer says she also hopes recipients will show their Bear Pride by wearing the socks all over town and throughout the state and country.
"This campaign is really a rallying cry to all alumni to make a statement about their bear pride," said Haley Fowler, former assistant director of Alumni Services.
The sock-centric video featuring a number of familiar faces and locales around Conway was released through email, Facebook and other social media portals.
President Tom Courtway, who stars in a scene in the video, says it is an honor and privilege to be included in the campaign. "This is such an easy and fun way to support UCA, and I'm excited about getting alumni even more connected to the university than they have been."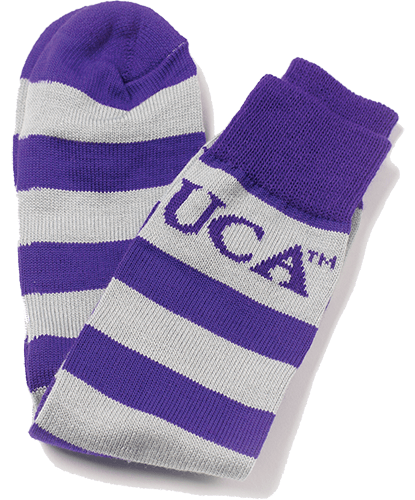 These socks are only available to UCA Alumni Association members. Life members have an opportunity to sport these exclusive spirit socks with a $25 donation.
To get yours, simply join, renew or give today. Memberships are available on four levels:
New graduates, those who have received their first degree within the last 12 months, can join for $10.
Individuals can join for $35 annually.
Couples can join for $50 annually.
Life Membership, which includes a Life Member certificate, a personalized brick in the Legacy Walk, free admission to Alumni & Friends tailgate parties, and exclusive invitations to special events, is available for a one-time donation of $500.
For more information visit uca.edu/alumni.