Dr. T.K. Anderson-Gault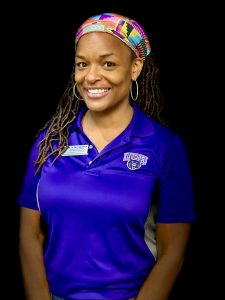 Dr. Anderson-Gault received the 2022 Association of Teacher Educators Distinguished Dissertation Award. The title of her dissertation is Representation of Black Men Educators: Impact of Recruitment, Retention, and Responsibilities to Education.
Adrienne Thompson
Critical Language Scholarship Recipient
Announced at the Grand Opening of the Center for Chinese Language and Culture (2021)
The Richard J. and Nancy P. Gallavan, Ph.D. Endowed Grant for Faculty Diversity
Established in Fall 2018, this grant provides opportunities to attract, affirm, and advance domestic, racial/ethnic minority faculty members of historically underrepresented groups at UCA that are not proportional and representative of their student counterpart or have little representation on the UCA campus.
Dr. Darshon Anderson was recognized as a National Role Model (2018) by Minority Access, Inc. She demonstrates a spirit of diversity and inclusion as an administrator, an instructional leader, a researcher, and in service. Dr. Anderson designs multicultural courses, leads diversity assessment for the campus, conducts research and receives grant funding to examine the reasons for a dearth of minority faculty in psychology departments across the nation, and serves as an RSO advisor, evaluator for the Arkansas Tobacco Settlement Commission Evaluation Team, a coordinator for the Minority Health Commission, and is a member of the Arkansas Association of Black Psychology.
Recent graduate, Dr. Barrett Petty was selected as the recipient of the 2017 Association of Teacher Educators Distinguished Dissertation in Teacher Education Award for his dissertation titled Factors That Contribute to the Completion of Programs of Study at Arkansas Institutions of Higher Education for African American Males.
The Theta Lambda chapter of Beta Alpha Psi chapter at the University of Central Arkansas earned two first place awards at the organization's Southwest Regional meeting in Dallas, Texas, on Saturday, February 25, 2017.
Emelyn-Doriane Djoké of Côte d'Ivorie and Tuan Nguyen of Vietnam competed in the Community Outreach category of Best Practices using their project, "Diversity in the Accounting Profession." The students competed against three other regional teams and won the competition. The students who participated in the competitions earned the right to compete at the national meeting this August in Anaheim, California. (2017)
The UCA Department of Accounting received contributions from BKD, LLP which allows the students to travel to the southwest and annual conferences. The UCA Student Government Association and the UCA Diversity Office also covered a portion of the registration fees for the conference. (2017)
Beta Alpha Psi is an honor organization for financial information students and professionals with over 300 chapters on college and university campuses. The Theta Lambda chapter is identified as a superior chapter by the organization for its commitment to professional and service hours. (2017)
If you have any questions or comments, please contact our chapter's faculty advisors, Dr. Connie McKnight (cmcknight@uca.edu; 501.450.5076) and Dr. Karen Oxner (koxner@uca.edu; 501.852.0028).
Vice President Ronnie Williams was named a National Role Model (2016) by Minority Access, Inc. He was honored for being a role model and father figure to many, offering guidance, insight, and wisdom. Throughout the years, alumni who are now educators at every level, physicians, attorneys, and the gamut of professionals have returned to campus to connect with him and to validate his positive influence on their lives. He has persevered over the years to initiate critical conversations with courage, conviction, and kindness. He is a treasure to the University of Central Arkansas.
Dr. Angela Webster was also recognized as a National Role Model (2016) by Minority Access, Inc. She works diligently to assist following generations of students in obtaining graduate degrees. She serves as an instructor for independent, guided courses for diverse doctoral students and serves on master's thesis and doctoral dissertation committees of diverse students. She recruits and mentors diverse undergraduate and graduate students as well as diverse faculty. She has also initiated diversity-related campus programming and has secured grant funding to advance inclusive excellence.
Edayshia Tank, a graduate student in the Psychology Department, became a fellow in the inaugural year (2015) of the Minority Fellowship Program in Services for Transition Age Youth (STAY). The fellowship is under the auspices of the American Psychological Association, the Substance Abuse and Mental Health Services Administration (SAMHSA), and the Department of Health and Human Services (DHHS).
 
Pictured left to right: Jacob Hoelzeman, Anastasiya Klimiankova, Nathan Scheuter, Emelyn-Doriane Djoké, Alyman Ouattara, Kylie Garrett, Obed Onyemakonor, Tuan Nguyen, Johnathan Long, Jean Piere Leon Chavez, Sultan Faretdinov, and Dr. Karen Oxner.