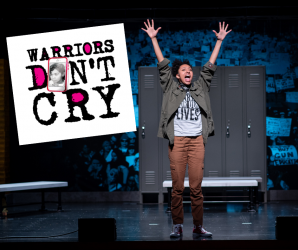 WEDNESDAY, MARCH 2, 2022 @ 7:30 PM
Warriors Don't Cry– Inspired by Dr. Melba Pattillo Beals's Little Rock Nine memoir Warriors Don't Cry, this production is a catalyst for deeper discussion about social responsibility, civil discourse, social media, and community engagement. A young activist, Ya Girl, is ready to call it quits on leading her million-plus Instagram followers in the fight for social justice. When Melba Pattillo Beals steps out of history and into Ya Girl's phone to share the story of her battle to integrate Little Rock Central High School in 1957, Ya Girl learns to see herself in Melba and in all the young warriors who came before her to raise their hands and make a difference.
Warriors Don't Cry is co-conceived by award-winning playwright Donnetta Lavinia Grays (Where We Stand) and director Tamilla Woodard (Associate Director, Hadestown), featuring original music by Toshi Reagon, spoken word, and video projection. This production is a collaboration between The Bushnell Center for the Performing Arts and TheaterWorksUSA.
This performance will conclude with a presentation by the Writeous Poets, a youth performance spoken word collective from Little Rock Central High School along with a Q&A session from STACY JAMES MCADOO, founder of the group.
Stacey James McAdoo, our "forever" 2019 Arkansas Teacher of the Year, is the founder of the spoken word collective called Writeous Poets from Little Rock, Arkansas. For seventeen years she served as an Oral Communications instructor and the AVID College & Career Readiness Coordinator at the historic Little Rock Central High School. She's currently the Arkansas State Director for Teach +Plus and is an adjunct instructor in UCA's Teaching and Learning Department where she continues to be the living embodiment of her ATOY platform of using passion and poetry to close the opportunity gap. She is also the creator and host of the education podcast "A Mile in My Shoes: The Walk and Talk Podcast." Visit her blog at www.stillstacey.com to learn more.

The Writeous Poets have been in existence since 2000 under the umbrella of Backyard Enterprises and the direction of Leron and Stacey McAdoo. A periodical that featured writers from around the nation has since been transformed into a youth-oriented artistic and performance troupe. This initiative has assisted young writers and other creatives in finding their voice and confidence as individuals, performers, and activists. Armed with the most powerful weapons around (their thoughts, tongues, and talents) they defy stereotypes, speak their truths, and combat social injustices through the medium of poetry, music, and art.
SPONSORED BY