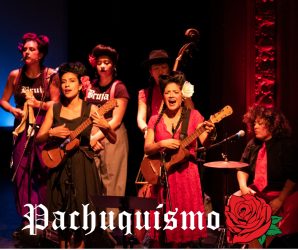 THURSDAY, APRIL 7, 2022 @ 7:30 PM
Join us as we present Vanessa Sanchez and La Mezcla in PACHUQUĺSMO, a multi-disciplinary, rhythmic performance that unveils a forgotten history of Mexican-American female youth and explores the struggles that communities of color continue to face today. Recipient of the "Izzie Award," the Isadora Duncan Award for Outstanding Production, the work overlays tap dance with Mexican zapateado, features a live band that brings together Jazz with traditional Son Jarocho music from Veracruz, Mexico and explores the Chicanx experience through percussive conversations. With the 9-person, all-female cast donning full zoot suits, Pachuquísmo pulls the narrative of the Zoot Suit Riots out of the male-centered context and portrays the experiences of las pachucas of the 1940's through movement, spoken word and video.
Vanessa Sanchez is a Chicana-Native dancer, choreographer, activist and educator who focuses on community arts and traditional dance forms. She holds a degree in Dance and Education from San Francisco State University and is a 2019 Dance/USA Artist Fellow and a recipient of the 2019 New England Foundation for the Arts (NEFA) National Dance Production Grant and the Hewlett 50 Arts Commissions grant for her upcoming work "Ghostly Labor."  She is the Founding Artistic Director of the multi-disciplinary performance ensemble, La Mezcla.  Her work has been shown on stages throughout the United States, Mexico and Portugal.
La Mezcla is an all-woman, polyrhythmic, San Francisco-based dance and music company rooted in Chicana, Latina and Indigenous traditions and social justice. Founded in 2014, their work brings together Tap dance, Son Jarocho and Afro-Caribbean rhythms to bring the overlooked histories and experiences of communities of color to stages and streets.
The performance will conclude with a Q&A session from professor of Latin American and Latino Studies at the University of California, Santa Cruz, CATHERINE S. RAMIREZ.  She is a scholar of Mexcian American history and Latinx literature and author of The Woman in the Zoot Suit:  Gender, Nationalism, and the Cultural Politics of Memory.  
The presentation of PACHUQUĺSMO by Vanessa Sanchez was made possible by the New England Foundation for the Arts' National Dance Project, with lead funding from the Doris Duke Charitable Foundation and The Andrew W. Mellon Foundation.
SPONSORED BY