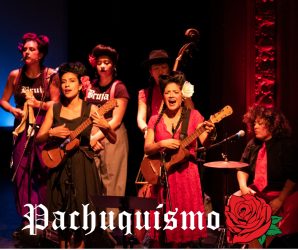 THURSDAY, APRIL 7, 2022
10:00 AM – SCHOOL MATINEE
TICKETS ARE $10 ADULTS AND $5 CHILDREN/STUDENTS
PACHUQUĺSMO is a multi-disciplinary, rhythmic performance that unveils a forgotten history of Mexican-American female youth and explores the struggles that communities of color continue to face today.  The work overlays tap dance with Mexican zapateado, features a live band that brings together Jazz with traditional Son Jarocho music from Veracruz, Mexico and explores the Chicanx experience through percussive conversations. With the 9-person, all-female cast donning full zoot suits, Pachuquísmo pulls the narrative of the Zoot Suit Riots out of the male-centered context and portrays the experiences of las pachucas of the 1940's through movement, spoken word and video.
Recommended grades 6-12.  Study:  Music, Dance, Social Studies, Communication, History
There will be an evening performance at 7:30 pm for the public with an additional Q&A session with Catherine S. Ramirez.  More information can be found by clicking here.  Tickets are $15 adults, $5 for students/children/UCA Community.
The presentation of PACHUQUĺSMO by Vanessa Sanchez was made possible by the New England Foundation for the Arts' National Dance Project, with lead funding from the Doris Duke Charitable Foundation and The Andrew W. Mellon Foundation.
SPONSORED BY