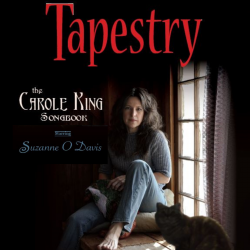 SATURDAY, APRIL 29, 2023 @ 7:30 PM
North America's premiere musical tribute to Carole King. Suzanne O. Davis, along with the Tapestry band, gives an energetic and heartfelt performance and takes you on a journey into those great recordings. Impeccable attention to detail is taken in recreating a respectful and accurate musical presentation of Carole's piano vocals, just as they were. This show recreates the sound and vibe of a 1970's Carole King concert following her legendary album, Tapestry. This show not only performs songs from the record-breaking, Grammy winning album of the same name, but also Carole's follow-up hits that continued throughout the 70's. Tapestry brings back a beautiful flood of music memories with every song and an unforgettable experience of Carole King's legendary album.
This is a benefit event for the Reynolds Main Stage Education Series.  Main Stage Education is a program that benefits children all over the state by bringing quality educational and entertaining events to Reynolds.