---

                                   
---
Our Program Tracks
Take Action Now!
Discover how we prepare leaders to impact Arkansas and beyond.
---
ITEC Faculty
---
Welcome
The Master of Science in Instructional Technology (ITEC) is designed to provide K-12 educators with the knowledge and skills needed to become technology leaders and practitioners. Each track of our program provides options for graduate certificates (15 credit hours) and master's degrees (30 credit hours).
Developing skills for leadership in and administration of these technological fields is the overarching goal of the ITEC program. (Graduate Bulletin)
NOTE: This program is 100% online – with a combination of face-to-face sessions in which all students and the instructor meet together (using video conferencing software) and asynchronous sessions in which the students work independently. UCA ITEC students receive flat-rate tuition of $336 (including tuition and all fees) per credit hour, regardless of residency or location.
While we welcome any out of state candidates, completion of any program, other than an initial licensure program, may not lead to licensure or endorsement in Arkansas or in the state in which you reside. It is your responsibility to check with your state's department of education to determine if the license or endorsement requirements are met through the program of study. If you are a potential out of state candidate, please contact the program coordinator directly.
State Department of Education Contacts
The site below provides the contact information for the Departments of Education in each U.S. state and territory.  Contact your state's department of education for specific licensing requirements for your state.
www2.ed.gov/about/contacts/state/index.html
If you have any questions please feel free to contact the Program Coordinator, Dr. Allison Freed.


---
Information for Prospective Students
The ITEC program is built upon the knowledge that successful organizations demand highly trained individuals to serve as technology leaders.
The Instructional Technology degree comprises 30 semester hours of graduate credit. The program consists of an 15-hour core (five 3-hour courses), 15 hours advanced study (five 3-hour courses) of in a selected area of concentration (i.e. online teaching and learning OR computer science teaching and learning OR media design and development).
To be accepted into the degree program in Instructional Technology, an individual must:
Meet the general admission requirements of the university.
Provide the department with copies of transcripts of all previous academic work.
Submit a valid standard educator license OR a two-page, double-spaced letter of intent that includes reasons for applying to this program, future goals, and three professional references.
The ITEC program may be completed within two years. 100% of courses are available online! All ITEC courses have been approved by the Arkansas Department of Education as professional development hours.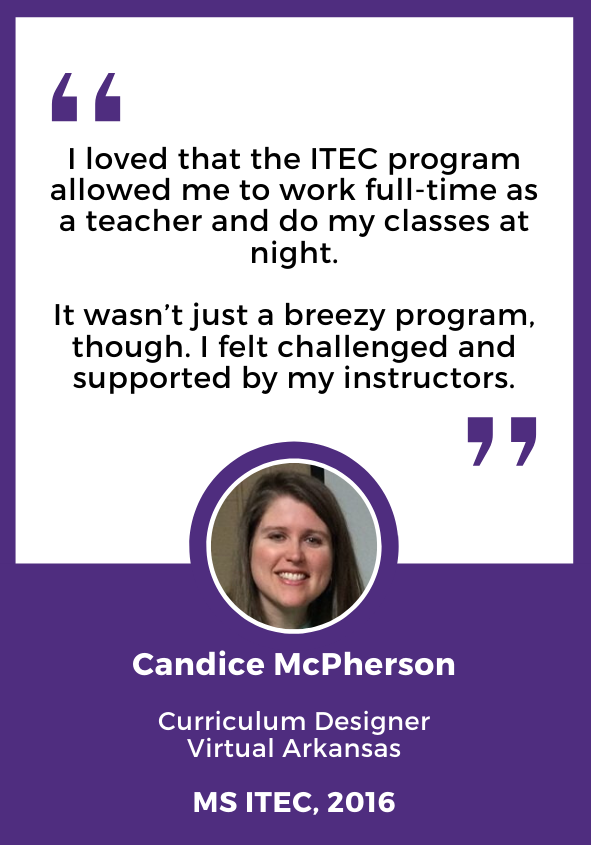 How to Fund Your Graduate Degree
There are many opportunities for financing your graduate degree. The list below provides you with a few options.
Information for Current Students
Advising – ITEC students should be advised every semester prior to registration. As a general rule, it is a good idea for students to contact their advisor 2-3 weeks prior to registration. For registration information, monitor the Office of the Registrar for the Advanced Registration Schedule. The Schedule of Classes is usually updated 2-3 weeks prior to advanced registration.
DegreeWorks – Review DegreeWorks quarterly. This ensures the student stays on track to graduate.
Program of Study – This form may be used to assist the candidate in planning their course of study. (Graduate Bulletin)
Student Resources – The Leadership Studies website provides various student resources such as information on the Educational Testing Service (ETS), Graduate School, Torreyson Library, Technology Requirements for Distance Education, the UCA Writing Center, as well as tutorials for Blackboard and Chalk & Wire. (Student Resource Page)