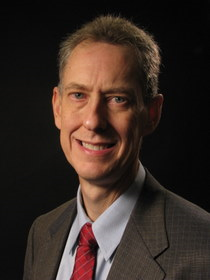 Mr. David Keith
Lecturer II of Journalism, Echo Advisor
Stanley Russ Hall 220
(501) 852-2912
Office Hours for Semester: MWF 11 a.m.-noon, 1-3 p.m.; Tr 11 a.m.-1:30 p.m., 2:30-4 p.m.; or by appointment
Educational Background:
MA in Journalism, University of Arkansas-Little Rock, expected completion December 2009;
BS in Journalism, Arkansas State University, 1981.
Bio:

David Keith worked as a newspaper reporter and editor for 25 years before coming to UCA in 2006. He also has developed programming that he produced and hosted for Conway Corp. cable television, and has been a regular contributor to political and news programming for AETN and other media.
Positions Held:
Managing Editor, Log Cabin Democrat, 1994-2005;
City Editor, Log Cabin Democrat, 1992-1994;
Reporter, Log Cabin Democrat, 1990-1992;
Reporter, The Jonesboro Sun, 1982-1990.
Panels and Papers:
KTA Outstanding UALR Journalism Research Paper 2008, "Style or Substance: What Viewers Like and Dislike about the Nightly Network News"
Organizations:

Arkansas State University College of Communications Advisory Board;
Arkansas Press Association Education Committee, ex officio.
Activities and Honors:
Numerous Arkansas Press Association and Associated Press Managing Editor awards:
Editorial writing
Editorial pages
Column writing
Breaking news
Political reporting
Service to FOI
Headline writing
Page design