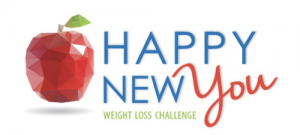 UCA BeWell and HealthCheck360 want to help you to start your 2019 New Year's resolution and turn it into a SOLUTION. Happy New You weight loss challenge will keep you motivated before and after the New Year. Our online tracking keeps logging simple, so you can focus on making healthy choices! Visit your myHealthCheck360 account and set your weight loss goals for this 10 week weight loss challenge. Continue to track your weight once per week throughout the challenge for a chance to win prizes.
Every week, participants who show progress through their weight loss goals will be placed in a drawing to win a Garmin VivoFit3 or $50 in BearBucks. REMEMBER: we are looking for you to meet your goals, not lose the most weight.
Happy New You Starts on December 10th and runs until February 17th. You must sign up by December 9th on your myHealthCheck360 account to get started with this 10 week weight loss challenge.
For more information, contact ucabewell@uca.edu
Starts: 12/09/2018
Ends: 02/17/2019
---
RETHINK YOUR DRINK
Did you know? Sugar-sweetened beverages are the #1 source of added sugar (53 percent) in the American diet! We didn't either and now that we do we want to raise awareness. Join students, faculty, and staff to Rethink Your Drink.
Starts: 09/17/2018
Ends: 10/15/2018
Join the challenge and then start logging your beverages on the "Food" Sections under "Track Health" See here for How to Track Your Beverages. The leaderboard will not update the beverages you log if you follow the instructions above; and is used for registration purposes only.
If you track all beverages for at least 5 days a week for four weeks, your name will be entered to win one of five Garmin devices.
CONGRATULATIONS to the following RETHINK YOUR DRINK Challenge winners!
Baberly Waters
Kyana Smith
Nadia Eslinger
Teri Colaianni
Philip Whiting
---
This Summer, University of Central Arkansas is helping employees swing into health with Grand Slam, a new activity challenge offered by HealthCheck360. This challenge is for Rookies and MVPs of all activity and skill levels. If you're already active, we encourage you to increase the intensity, duration, or frequency of your activities. If you're not active yet, take advantage of this opportunity and begin an exercise routine!
Grand Slam began on 07/25/2018 and played through 08/28/2018. Four completers were put into a drawing for completing 120 minutes of activity each week of the challenge. The prize is choice of $50 in BearBucks or a Garmin VivoFit3.
CONGRATULATIONS to the following GRAND SLAM Challenge winners!
Michael Rubach
Susan Gatto
Carmen Webb
Hank Phelps
---
WATER WORKS Challenge ended July 9th.
CONGRATULATIONS to the following WATER WORKS Challenge winners!
Overall Winner:  Eric Bowne
Week One Winners
Kim Eskola
Sandy Burks
Leitha Smith
Week Two Winners
Mark White

Bertha Acosta Orozco

Kim Newman
Week Three Winners
Lina Oconnell
Jacqui Rainey
Tyra Phillips
Week Four Winners
Krista Peppers
Adam Hensley
Valerie Nicholson
---
The Launch Into Health Challenge ended June 4th.
Week One Winners
Moriah Bruner
Melissa Pearson
Angela Jackson
Week Two Winners
Sharla Ashcraft
Jared Wood
Amber Wofford
Week Three Winners
Alice Barnes
Mary Ann Frisby
Suzanne Johnston
Week Four Winners
Duncan McKinnon
Leanna Mcclendon
Ron Duggins
Grand Prize Winners
Ary Servedio
Laci Lyons
Shawn Charlton