---
ACRE participates in several professional development workshops throughout the academic year. At these workshops, teachers hear lectures on a variety of economic topics, participate in Q&A sessions with experts in the field, and take home new lesson plans and activity kits for their classes.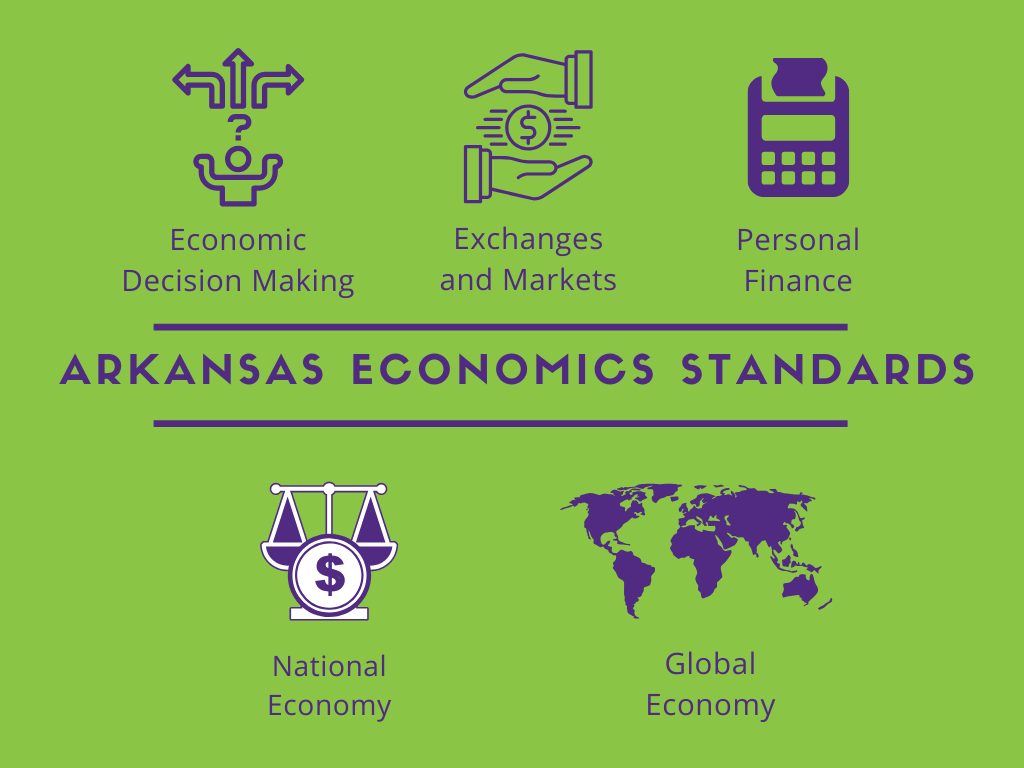 Spring 2021 PD Webinars
Social Studies Resources Tailored for Arkansas Educators
January 25, 2021 – 3:30pm – 4:30pm
Attend this webinar to learn about the resource offerings from the Arkansas Center for Research in Economics. ACRE has worked to develop educational resources that are tied to the state's learning standards for economics, personal finance, civics, history, and geography and designed in a way to talk about these content areas in interdisciplinary ways. Resources include hands-on activities, virtual classrooms, reading and discussion guides, and more! Register here!
Economic History in the Arkansas Social Studies Classroom
February 5, 2021 – 3:30pm – 4:30pm
During this webinar, Dr. Marcus Witcher will guide teachers through economic history modules that have been tied to Arkansas's history, civics, and economics standards. Teachers will discuss economic events like Prohibition, the Roaring Twenties, and the Great Depression, and learn how to discuss those events in multiple classrooms. Teachers in attendance will receive guided curriculum packets, new activities, discussion prompts, and AMI resources. Register here!
Teaching Personal Finance: Building Wealth
February 24, 2021 – 3:30pm – 4:30pm
Every year Forbes magazine compiles a list of the wealthiest people in America. Bill Gates, Jeff Bezos, and Warren Buffett all appear at the top of the list year after year. So how did these people build wealth? They all started their own businesses and amassed great fortunes by providing a product or service in high demand. While most of us will never achieve this level of wealth, we can all create enough wealth over time to live very comfortably in retirement. Using savvy saving strategies, many of us have the ability to become millionaires. This webinar will explore a curriculum guide and multiple activities for students to use while working through these concepts. Register here!
Our State is Freer Than Yours: How State Constitutions Protect Individual Rights
March 4, 2021 – 4:00 pm – 5:00pm
Institute for Justice Senior Attorney Justin Pearson litigates constitutional challenges across the U.S., and he wins the vast majority of his cases. Some of his challenges are based on the U.S. Constitution, but most are based on state constitutions, including his win here in Arkansas on behalf of an aspiring entrepreneur. Come learn about the differences between state and federal constitutional law and how he was able to rely on a provision in the Arkansas Constitution that does not exist in most states. Concepts from this session can be tied to Arkansas learning standards for teaching Civics, U.S. government, Business, Entrepreneurship, and others in the social studies content area. Teachers attending this session will receive 1 hour of professional development credit and free resources to take back to your classroom! Register here: https://www.economicsarkansas.org/
Time Well Spent
March 29, 2021 – 3:30pm – 4:30pm
Do you know why the number 8760 is important? It's the number of hours in a year. What if we thought about how much of our life it takes to buy something, like a carton of eggs or a house, instead of thinking about how many dollars it costs? This webinar explores an alternate way of thinking about the "cost" of any object: the effort that is "hidden" underneath a dollar bill. The session will also cover historical trends in productivity, how wealth is created in modern economies, and how technology increases quality and decreases price over time.
Sweatshops & Opportunity Cost
April 14, 2021 – 3:30pm – 4:30pm
One of the most controversial topics in economics but also one where the economic way of thinking is most clearly revealed. Why might an economist think that sweatshops could be good? Individuals work in places with working conditions we find hard to imagine and for pay we'd never even consider. In this module we'll look at the concept of "opportunity cost," the next best option that we all give up whenever we make a choice. Teachers will see how sweatshop conditions compare to the other options people in poor countries have and be invited to think about how having more "bad" options can be better than having less.
Teaching Personal Finance: Mastering Interest Rates
April 21, 2021 – 3:30pm – 4:30pm
When we think of interest rates, we may begin to get anxious because the topic seems difficult to understand. But really, the concept is simple. Interest can be defined as rent on money. Paying interest when you borrow money for some period is similar to paying rent to use an apartment for some period. When you no longer need the money, you return it to the owner. You usually pay the interest plus a fraction of the principal each month for several months or years. While you pay interest if you borrow money, you can also earn interest if you loan money. In other words, you can be a borrower or a saver. During this webinar, we will discuss questions like How do I calculate an interest rate? How does interest work on credit cards? How does interest work on savings accounts? How do rising and falling interest rates affect me?
Economic Freedom of the World
May 5, 2021 – 3:30pm – 4:30pm
The original and in some ways the central question of economics is: Why are some countries rich and others poor? Beyond being able to merely describe the differences, we want to understand how to make poor countries richer and rich countries better. During this session, teachers will learn the components of economic freedom and be given examples and resources that can illustrate the concepts to students.
---
Please contact Terra Aquia at tvotaw@uca.edu for more information about upcoming professional development workshops. 
Professional Development credits at ACRE educational workshops are provided through a partnership with Arkansas's Council for Economic Education, Economics Arkansas.