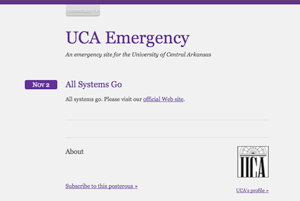 Over the years, I've spent a lot of time researching the best low cost (free) option for implementing a crisis communications website. Below is a blog post from 2009 explaining my thoughts behind UCA's emergency website.
Museum Title: (Pre)posterous Crisis Communication Planning
Colloquial Title: So easy, a cave man can do it.
Crisis communication planning has always been an interest of mine. It was the buzzworthy phrase from the Council for Advancement and Support of Education (CASE) conferences I first attended over 8 years ago.
Virginia Tech made the need for a crisis communication plan a reality in my #highered world.
The campus shooting at my University brought things closer to home. That night, watching an open Facebook profile turn into a memorial of wall posts made an impression of the true power of social media.
Over the last few years, I've seen various examples of external crisis communication sites being set up. Traditional blogging sites such as wordpress.com or blogger.com appear to be popular choices. However, I've never been comfortable with these because a person needs to remember too much to log on and post updates. Factor in added stress from a true crisis and it's too much to ask.
I want those needing to update news to not have to think about where to go or what to do. I want it to come naturally.
Enter posterous.com
What I like about the posterous.com solution is that it takes an act we've all become familiar with (sending an email) and does so much more.
Posterous lets you post things by using email. You simply email post@posterous.com and magic happens.
Posterous can also be set up to post to a number of other networks.
Facebook
Twitter
Flickr
Tumblr
Blogger
WordPress
Typepad
Movable Type
Livejournal
Xanga
Think about it. At the height of a crisis, sending an email to post@posterous.com is all you need to remember. It's so easy, a caveman could do it.