Marketing and promotional videos created outside of the Office of University and Government Relations should meet the following criteria in order to be considered for use on the university's website, social media channels or broadcast television.
Those creating video content are strongly encouraged to contact University and Government Relations regarding video projects prior to shooting in an effort to ensure projects meet university branding standards. Use the video request form to provide University and Government Relations with information regarding your project.
Videos should coordinate with the university's overall strategic message; contribute positively to the university's brand image and prevent duplication of previously existing materials.
Videos should meet high production standards including shots, lighting, sound and graphics.
Any unit planning a promotional video should contact the Vice President of University and Government Relations for guidance on video promotional projects. Prior to shooting, University and Government Relations staff will review the goals and script of the video to ensure it will adhere to the above criteria. Following the completion of the project, University and Government Relations staff will review the project and either approve it for publication or suggest changes to be made.
Once a project has received final approval, all project files and all raw footage should be turned over to University and Government Relations prior to publication.
* This does not apply to student projects produced for broadcast on the university's public broadcasting station. However, should a university entity wish to use a video outside of the scope of the broadcasting station, the above guidelines will apply. It also does not include traditional network, cable, or local television news crews covering stories on campus.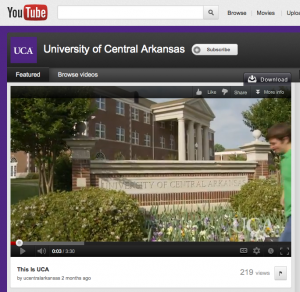 Logos and Branding
It is important that University of Central Arkansas videos communicate UCA's brand both visually and conceptually.
Official and approved University logos are to be used on officially recognized and administered University, college, departmental or administrative videos. For correct use and listing for approved UCA logos and brand guidelines, please see the brand guidelines logo policy.
To create consistency and brand awareness for all University videos, the appropriate beginning and end tag logos should be used on all University videos. Link Here.
Copyright Policing
Prior to the distribution of any University of Central Arkansas video, it is imperative that you have received in writing the rights to distribute the material. No copyrighted audio or video can be featured.
File Size and Formats
Your video file should not exceed 20 GB; however, it should be at least 640×480 resolution. The large file size allows for both high quality and HD videos to be uploaded to YouTube.
Preferred file types for YouTube are Quicktime (.mov) and MPEG (.mp4).
Submitting Files to UCA's YouTube Channel
UCA's YouTube channel exists to give the community access to all university-related videos. The goal is to include all University, college, departmental and alumni-related videos. In order to continue to build an expansive library, we need your help in gathering all existing and future UCA videos.
Only official and approved UCA, college, departmental and administrative unit videos, or select approved videos will be posted to UCA's YouTube Channel.
The channel will serve as a key promotional tool for your college or department, receiving thousands of views every month. Additionally, once videos are uploaded, they can be embedded on UCA's website and Facebook pages.
Please help us grow UCA's YouTube channel by submitting your UCA-related videos.
For inclusion on UCA's YouTube Channel, please submit your video file to branding@uca.edu and fill out the YouTube Video Submission Form.
Revised: 09/24/2012
Adapted from Clemson University
Arkansas Tech University