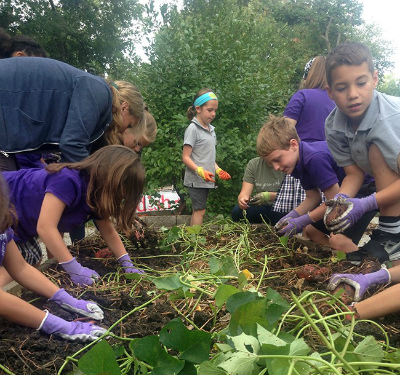 Garden-based education is an innovative tool useful in strengthening core standards and providing the highest quality education possible, through teaching strategies that address human diversity--including diversity among student learning styles. Drawing upon Kolb's theory of experiential learning as well as insights from the Farm-to-School movement, this seminar will acquaint K-8 teachers with practical strategies for engaging students in school gardens. Participants will develop lesson plans, learn teaching techniques, and brush up on gardening basics using UCA's own organic vegetable-and-flower garden. The seminar will end with a lunch featuring produce participants will harvest themselves! Participants should dress comfortably and wear appropriate footwear for morning sessions spent in the garden; a hat and a water bottle are recommended. Afternoon sessions will be held indoors in McAlister Hall, Room 108 (The Mirror Room). Overnight lodging in a campus residence hall is an option at an additional cost. Twelve ADE-approved PD units available.
Regular Fee: $75
Tues, Wed, Thurs, June 12 - June 14
8:30 am - 2:30 pm
Class time includes a one-hour lunch break on Tuesday and Wednesday. Class ends at 12:30 pm on Thursday.
Location: The Mirror Room - McAlister Hall (Room 108), UCA
Instructor: Allison B. Wallace and Sarah Lane | Allison Wallace website