Bearswrite will involve students in five action packed days of creative writing using both traditional methods and writing with technology. Campers will study how to use voice, setting, word choice, character traits, point-of-view, journaling, and poetry.  Aspiring authors entering grades 4 to 9 may attend.
June 19 – 23
8:00 a.m. – 3:00 p.m. (Daily)
UCA College of Education, Mashburn Hall
---
Cub Fit Camp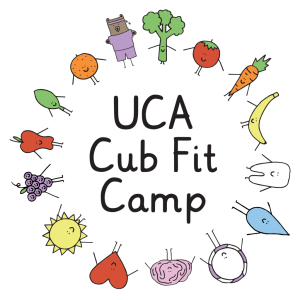 UCA Cub Fit Camp invites rising 4th and 5th graders to campus for a dynamic daily schedule of activities related to fitness, nutrition, and wellness! Come show off your dance moves with Zumba, practice calming your mind through meditation, learn about how healthy foods can keep you from getting sick, and much more. Family members are also invited to see the campers present what they have learned on the final afternoon of camp.
July 23 – 27
8:30 – 4:00 p.m.
UCA Brewer-Hegeman Conference Center
Please contact:
Lawana Hawkins
501.450.5811
lhawkins@uca.edu
---
A three-day culinary camp for kids ages 8-12 years old? This is just what young chefs have been waiting for! Junior chefs will work in small groups to prepare a dish that will incorporate a surprise 'atypical' food ingredient.  Each day of the camp, chefs will explore a different cooking focus resulting in an exciting culinary experience.
Day 1:  Appetizers with a surprise ingredient
Day 2:  Entrée with a surprise ingredient
Day 3:  Desserts with a surprise ingredient
This three-day "chopped junior" style camp will teach young chefs cooking skills that are sure to tap into their creative talents. In addition to being exposed to a "surprise" food ingredient each day, chefs will also take a closer look at the food items and how to incorporate them into meals at home.
Special Guest Chef  – Ruby Jones

Ruby is a 12-year-old student at St. Joseph School in Conway.  Her love for being in the kitchen began during her toddler years.  She recently competed on Food Network's Chopped Junior.  Although she did not walk away with the $10,000 prize, she made it to the final round.  When Ruby is not baking or making dinner for her family, she enjoys playing basketball, reading and attending MidYouth events at the First Methodist Church.

COST:  $99
TUES – THURS;  JULY 11-13 | 9:00 AM-12:00 PM | UCA DOWNTOWN
TIFFANY BLOCK
REGISTER
---
Read to Succeed + Growth Mindset Training
Does your child have difficulty with reading? Read to Succeed + Growth Mindset Training is designed to help students feel successful and proud of his or her accomplishments. Using evidence-based intervention founded upon the principles of Orton-Gillingham, Read to Succeed with provide training in: sound symbol association, phonological awareness, syllable instruction, oral reading fluency, and written text comprehension.  When students believe they can improve and even get smarter, they are more likely to put in extra time and effort in their school work.
Read to Succeed + Growth Mindset Training is for children entering third through sixth grade, who are experiencing difficulties with reading and/or spelling or diagnosed with dyslexia.
Wednesdays
3:00 – 5:00 pm
June 14 – August 2
UCA Speech Language Hearing Center
Please Contact:
Sun Kim
501.852.0850
skim@uca.edu
---
The UCA Department of Communication Sciences and Disorders invites children who stutter to participate in the Summer Fluency Program. The summer program is designed to provide speech services to school-aged children who stutter. It is specifically geared toward children who need to manage their stuttering and enhance fluency in both learning and recreational activities.
The program will feature:
Individual and group therapy sessions
Fluency assessment and recommendations for home programs
Fluency enhancing activites
Recreational activities to help transfer fluency skills outside the clinic
Additionally, for the older children, the program will feature:
Overcoming a Stutter Frame of Mind
Building Self-Confidence
Developing Good Communication Techniques
Dealing with Teasing
The sessions will offer student experience to improve and manage their fluency through high-energy, low-stress, fun-filled activities.
Graduate students from the UCA Department of Communication Sciences and Disorders will provide leadership for program. Supervision for this program will be provided by certified speech-language pathologists who have had extensive experience in the assessment and treatment of stuttering.
3rd Grade and Up
June 13 – August 3
Tuesdays and Thursdays
8:30 – 10:30 a.m.
UCA Speech-Language-Hearing Clinic;
corner of Bruce and Donaghey
Please contact:
Dr. Brent A. Gregg
501.852.2823
bgregg@uca.edu
---
Funded by a UCA Foundation Grant and a contribution by Kimberly Clark Corporation – Conway Mills, STEMulate Engineering Academy is a low-cost academic summer enrichment camp that provides learners with opportunities to explore science and math through engineering. For children entering grades 3-5.
June 5 – 8
10:00 a.m. – 4:00 p.m. (Daily)
UCA College of Education, Mashburn Hall
For more information, please contact Dr. Debbie Dailey:
501.852.0920
ddailey@uca.edu
Please visit:  http://uca.edu/teaching/stemulate-academy

---
SUMMIT: A Multisensory Approach to Reading Success
For children entering K, 1st and 2nd grades.rovided by the UCA Department of Communication Sciences and Disorders. Your child will learn letter sound correspondence, printed and oral decoding, sound/syllable, rhyming, written text comprehenson, blending sounds into words, and early reading skills in a safe and fun environment.
Tuesdays and Thursdays
June 13 – August 3
UCA CSD Annex C
For more information contact:
Lori Dial
501-450-5482
---
This summer program is designed to offer students an exciting, hands-on curriculum. We believe all students want to be challenged. UCA is ready to meet such an ambitious challenge with hands-on activities guaranteed to promote curiosity and fun. For students entering grades 4-6 who share an interest in science.
July 10-14
UCA College of Education, Mashburn Hall
For more information, please contact:
Lisa Herrington
501.450.5442
lisah@uca.edu
Please visit:  http://uca.edu/else/univchallenge
---
Explore new countries and cultures!  Learn to speak a new language!  Expand your mind and your horizons!  These fun, action-packed day camps for children entering 1st – 7th grades (approximate ages 5-13) teach the kids foreign languages and give them hands-on cultural experiences! International visitors from many countries share their lives with the children through photos, games, music, crafts and recipes.  Camps are reasonably priced (with a discount for multiple siblings) and held in Irby Hall, suite 207 on the UCA campus where classrooms are transformed into colorful and exotic destination from afar. What a wonderful journey to send your child on this summer!  Sign your child up now for fun BEAR CAMPS!  Spots are limited!  Send in your registration form to hold a space for your child! Bear Camps provide interactive foreign language instruction as well as cultural studies including international games, food sampling, arts & crafts, music and celebrations related to the country of focus.
"
Explore Japan: the Land of the Rising Sun
"          
July 17th-21st
(M-F)
"
Mexico: Our Friendly Neighbor to the South
"        
July  24th-28th
(M-F)
Monday – Friday
8:30 a.m. – 3 p.m.
UCA Community Language School
Irby Hall Suite 207
For more information, please contact:
Ruth Clayton
Languages and Linguistics Department
501.852.2064
ruthc@uca.edu
Sera Streiff-Vena
serav@uca.edu
501.658.3877
---
UCA Super Kids is a science camp for entering  first, second, and third graders (Grades 1-3) who desire to learn and have fun.  The Super Kids camp is designed to offer students an exciting curriculum not offered in most schools.  The classes include Young Medical Scientists, Young Chemist, and Young Paleontologist.  A special 20 minutes per day is devoted to friendship building.  The topics for this year are:  Young Oceanographers, Young Zoologists and Young Ecologists.
June 5-9, June 12-16, June 19-23, and June 26-June 30
8:30 a.m. – 2:30 p.m.
UCA College of Education, Mashburn Hall
Please contact  Ms. Jamie Dallas
501.450.3356
jdallas@uca.edu
Please visit:  http://uca.edu/else/super-kids/
---
Click the link for entire listing of sports camps.
---
The programs are taught by instructors provided by the Institute of Reading Development and are offered by the University of Central Arkansas, Division of Outreach and Community Engagement. Programs in Conway, Fayetteville, Fort Smith, Little Rock, and Bentonville.
For program locations and schedules in your area, or to enroll online, select a program level below:
(The following links will re-direct you off of the UCA website.)
---