This page makes the campus community aware of colleagues and students, who receive diversity-related honors, make diversity-related presentations, publish diversity-related articles/books/dissertations, and display diversity-related creative activities. The intention of this link is to serve as a resource and a connecter to advance inclusive excellence.
2017 Awards
Recent graduate, Dr. Barrett Petty was selected as the recipient of the 2017 Association of Teacher Educators Distinguished Dissertation in Teacher Education Award for his dissertation titled Factors That Contribute to the Completion of Programs of Study at Arkansas Institutions of Higher Education for African American Males.
The Theta Lambda chapter of Beta Alpha Psi chapter at the University of Central Arkansas earned two first place awards at the organization's Southwest Regional meeting in Dallas, Texas, on Saturday, February 25, 2017.
Emelyn-Doriane Djoké of Côte d'Ivorie and Tuan Nguyen of Vietnam competed in the Community Outreach category of Best Practices using their project, "Diversity in the Accounting Profession." The students competed against three other regional teams and won the competition. The students who participated in the competitions earned the right to compete at the national meeting this August in Anaheim, California.
The UCA Department of Accounting received contributions from BKD, LLP which allows the students to travel to the southwest and annual conferences. The UCA Student Government Association and the UCA Diversity Office also covered a portion of the registration fees for the conference.
Beta Alpha Psi is an honor organization for financial information students and professionals with over 300 chapters on college and university campuses. The Theta Lambda chapter is identified as a superior chapter by the organization for its commitment to professional and service hours.
If you have any questions or comments, please contact our chapter's faculty advisors, Dr. Connie McKnight (cmcknight@uca.edu; 501.450.5076) and Dr. Karen Oxner (koxner@uca.edu; 501.852.0028).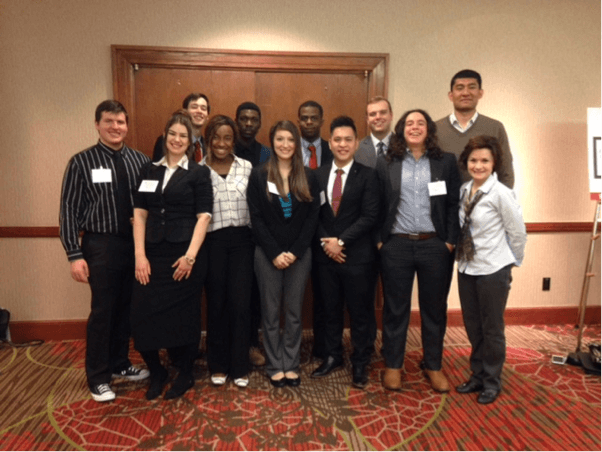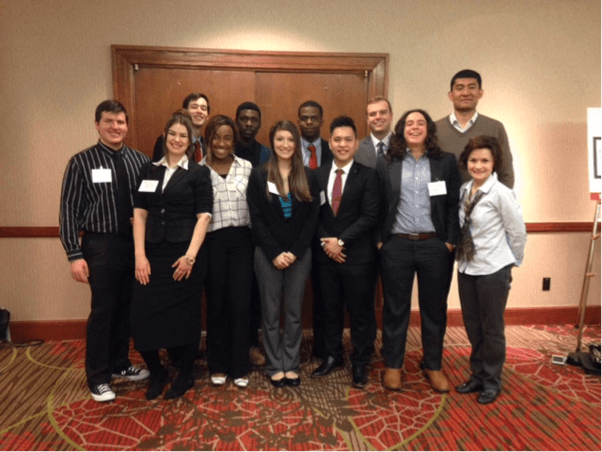 Pictured left to right: Jacob Hoelzeman, Anastasiya Klimiankova, Nathan Scheuter, Emelyn-Doriane Djoké, Alyman Ouattara, Kylie Garrett, Obed Onyemakonor, Tuan Nguyen, Johnathan Long, Jean Piere Leon Chavez, Sultan Faretdinov, and Dr. Karen Oxner.
2016 Awards
2016 Committed to Diversity Award
2016 LULAC Certificate
UCA Diversity and Inclusive Excellence Awards
This year marks the first year for the Diversity and Inclusive Excellence Award. The conception of this award was put forth by the University's Strategic Planning Committee and the Diversity Advisory Committee.
This award recognizes individuals whose commitment to diversity and inclusive excellence on and/or off campus have made a significant impact on various ethnic groups and diverse populations in a positive way. These individuals have improved conditions at UCA and within the community that have enhanced society.
Dr. Gayle Seymour has been an asset to the University of Central Arkansas and the community for over 30 years. During that time, she has been involved in over two million dollars in grants to fund a variety of projects for UCA and the community. Dr. Seymour is committed to the significance of diversity and inclusive excellence on and off campus in a variety of ways including African American history awareness, Japanese American internment awareness, LGBT+ advocacy, and the inclusion of adults with developmental challenges. She stated "…I could use the arts as a way to help people grow beyond their boundaries and develop empathy and compassion for those who may not be like them." Dr. Seymour received grants for the commission of The Little Rock Nine opera that will take place in 2017 to commemorate the 60th anniversary of the desegregation of Little Rock Central High School. She secured a grant from the Japanese-American Confinement Sites program for the creation of Gaman, a lyrical dance performed at Reynolds Performance Hall. Moreover, she played an intricate role in the UCA exhibition of the AIDS Memorial Quilt, the largest piece of ongoing community art, in honor of Arkansans who died of AIDS. In addition, she played an important role in the Every Person Counts project for the ArtsFest in Conway in order to cultivate new art audiences such as individuals with developmental challenges. "Her commitment and mindfulness of the role and importance that diversity and inclusion play is reflected in who she is, how she activates engagement, and the broadness and impact of her reach into the community."
Other Finalists
Dr. Taine Duncan, Assistant Professor and Director of Gender Studies Program, Department of Philosophy and Religion
Since coming to UCA from another program in Women's and Gender Studies, Dr. Taine Duncan has demonstrated a consistent and passionate commitment to diversity and inclusiveness on our campus. Dr. Duncan is a key person on UCA's faculty for bringing discussions of gender diversity front and center in our classrooms. Dr. Duncan's commitment to diversity, however, is neither limited to issues of gender nor to the classroom. Her service learning courses have supported One Billion Rising, an organization devoted to stopping domestic violence against women and girls, and she has also presented for the Center for Teaching Excellence on advocacy service learning. Dr. Duncan also serves as advisor to the Feminist Union, Registered Student Organization, has worked actively against discrimination toward Syrian refugees through "#refugeesARwelcome, and has been a consistent advocate for LGBT+ faculty, staff, and student concerns. "Dr. Duncan manages to engage in all these service activities, remain a fantastic classroom teacher and strong academic scholar, while remaining ever ready to assist students and colleagues in their needs"
Mrs. Reesa Ramsahai, Staff Counselor/Coordinator of Outreach Programming, UCA Counseling Center and the Office of Diversity and Community
Mrs. Reesa Ramsahai works tirelessly on behalf of those who feel invisible based on their individual differences. She juggles two UCA assignments and volunteers in many campus-related activities, demonstrating her passion and commitment to UCA. In her University roles, Mrs. Ramsahai provides counseling both during and after University business hours. In addition, she collaboratively organizes and implements educational programs both on and off campus. She specifically develops programs to assist the LGBT+ population. For instance, she facilitates Safe Zone and other LGBT+ professional development sessions for the University community. What is more, she coordinates programs for women's issues. For example, she coordinates Women's History Month events. "Reesa's dedication to social justice is tempered by a sense of realism and understanding." She helps others to see institutional barriers and helps them engage in the work that is needed to create valuable social change. Her ingenuity allows her to navigate the campus and social climate to ensure that the voices of marginalized people of all manners are heard. "Reesa has been a tireless and dedicated ally to diversity and inclusion, consistently seeking out opportunities to put "otherness" center stage."
2016 Honors
Vice President Ronnie Williams was named a National Role Model by Minority Access, Inc. He was honored for being a role model and father figure to many, offering guidance, insight, and wisdom. Throughout the years, alumni who are now educators at every level, physicians, attorneys, and the gamut of professionals have returned to campus to connect with him and to validate his positive influence on their lives. He has persevered over the years to initiate critical conversations with courage, conviction, and kindness. He is a treasure to the University of Central Arkansas.
Dr. Angela Webster was also recognized as a National Role Model by Minority Access, Inc. She works diligently to assist following generations of students in obtaining graduate degrees. She serves as an instructor for independent, guided courses for diverse doctoral students and serves on master's thesis and doctoral dissertation committees of diverse students. She recruits and mentors diverse undergraduate and graduate students as well as diverse faculty. She has also initiated diversity-related campus programming and has secured grant funding to advance inclusive excellence.
Diversity Honors 2015
Edayshia Tank, a graduate student in the Psychology Department, became a fellow in the inaugural year (2015) of the Minority Fellowship Program in Services for Transition Age Youth (STAY). The fellowship is under the auspices of the American Psychological Association, the Substance Abuse and Mental Health Services Administration (SAMHSA), and the Department of Health and Human Services (DHHS).
Conference Presentations 2015
Nancy P. Gallavan, Angela Webster-Smith, & Barrett Petty (2015, February). Obtaining a baccalaureate degree: How high school GPAs and ACT scores affect African American males. Association of Teacher Educators. Phoenix, AZ.
Angela Webster-Smith (2015, March). A six-point model of diversity and inclusive excellence for academic human resources. National Association of Diversity Officers in Higher Education. Washington, D.C.
Publications 2015
Barrett Petty (2015). Factors that contribute to the completion of programs of study at Arkansas institutions of higher education for African American males. Doctoral Dissertation. The University of Central Arkansas.
Angela Webster-Smith (2015). Racial identity. In Sherwood Thompson's Encyclopedia of Diversity and Social Justice. (pp. 592-596). Lanham, MD: Rowman & Littlefield.
Student Diversity Activities
During Fall 2015, students from RELG 1320 World Religions classes visited Little Rock to meet with members of the Central Arkansas Hindu community at the Shri Swaminarayan Mandir (temple). Members explained the customs surrounding the Hindu festival of Diwali and discussed the temple's many community activities and functions. Dr. Jim Deitrick and Dr. Julia Winden-Fey accompanied the students. Funding for travel and for the Indian cuisine sampled in class was provided by a "Deep Learning" grant from UCA's Residential Colleges. For more information on the mandir, please see http://www.baps.org/Global-Network/North-America/LittleRock.aspx.
2014 LULAC Certificate