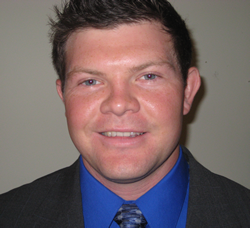 Park Tipton, a physical therapist at South Arkansas Rehabilitation in Monticello, was recently named a 2016 national Emerging Leader Award winner by the American Physical Therapy Association board of directors.
The Emerging Leader Award honors individuals who have demonstrated extraordinary service to the profession of physical therapy and to the American Physical Therapy Association early in their careers. Tipton is one of only 26 physical therapists across the nation to receive the 2016 award.
Tipton, PT, DPT, of Monticello, serves the Arkansas Physical Therapy Association as its federal affairs liaison and is a member of its board of directors.
In a letter announcing the award, Sharon L. Dunn, PT, PhD, OCS, President of the APTA, expressed the sentiments of the APTA Board of Directors to Mr. Tipton, writing, "We thank you and are extremely appreciative of the effective leadership qualities that you consistently illustrate, and that have made you an obvious choice for this award," American Physical Therapy Association President Sharon L. Dunn wrote in a letter to Tipton announcing the award. "You have been recognized as an individual who has made exceptional overall accomplishments and contributions to the association and to the physical therapy profession."
Nat Grubbs, owner of South Arkansas Rehabilitation, added, "Park is indeed an outstanding young professional, and he is passionate, intelligent, and hard-working in his efforts to promote and serve the profession of physical therapy and the patients served by physical therapists. That he is being recognized for his leadership and service by our national association as one of only 26 physical therapists across the country is an awesome honor, and I, along with his colleagues at South Arkansas Rehabilitation, am really proud of him and happy for him."