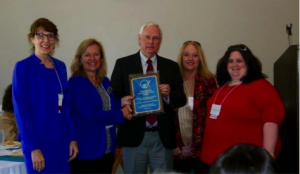 The Master of Arts in Teaching (MAT) program at the University of Central Arkansas (UCA) was recently awarded the Innovation in Teacher Education Award at the annual Southeastern Regional Association of Teacher Educators (SRATE) Conference held in Charleston, South Carolina. The Innovation in Teacher Education Award recognizes/honors outstanding teacher education programs that have developed innovative approaches to teacher preparation. Programs that want to be considered for this award must complete an application along with a description of the program and its ability to have a positive impact on teacher education. A program from each participating state is then selected by the SRATE Awards Committee to receive the honor.
Established in 2006 with 77 teacher candidates, the MAT program has grown to approximately 450 teacher candidates and is currently one of the largest graduate program on the UCA campus. Currently, 424 teacher candidates have graduated from the MAT program. This program gives students with a baccalaureate degree the opportunity to become certified Arkansas classroom teachers. The MAT is a 36 to 39 hour graduate degree program that offers two tracks for licensure: Middle Level (grades 4-8) and Secondary (grades 7-12). Students accepted into the program are also given the opportunity to secure a Provisional License which would allow them to teach in their own classrooms while completing the program. For more information about the MAT program please check out our website at www.uca.edu/mat.
Dr. Terry James, SRATE Interim Executive Secretary and Chair of the Leadership Studies Department at UCA, presented the distinguished award to a group of MAT faculty who presented on the innovative program at the SRATE conference in Charleston, South Carolina.   Those faculty members included Dr. Nancy Gallavan, professor in the Department of Teaching and Learning; Dr. Tammy Benson, Chairperson of the Department of Teaching and Learning, Ms. Chris Hogan, Clinical Instructor in the Department of Teaching and Learning, and Ms. Amy Thompson, MAT Program Coordinator in the Department of Teaching and Learning.  The award was brought back to UCA College of Education to share with the many faculty and staff that work collaboratively and effectively to keep this program successful.