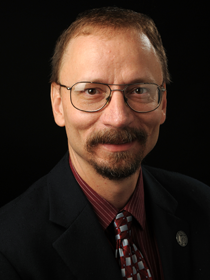 Steven W. Runge, Ph.D.
Executive Vice President and Provost
Wingo Hall 213
(501) 450-3126
Dr. Steven Runge joined the University of Central Arkansas (UCA) as an Assistant Professor in the Department of Biology in 1991, earning the rank of Associate Professor in 1995 and the rank of Professor in 2004.  Dr. Runge began serving as an administrator in 2003 when he was appointed as Interim Chair of the Department of Biology. One year later he was appointed as the Chair and served in this capacity until 2009 when he was appointed as Interim Dean of the College of Natural Sciences and Mathematics (CNSM). He assumed the position of Dean of the College in July 2010.  In February 2012, Dr. Runge was appointed Interim Provost and Vice-President for Academic Affairs at UCA and became Provost and Vice President for Academic Affairs in February 2013.  As of July 1, 2014, he was named Executive Vice President and Provost.
Dr. Runge is a 1986 graduate of the University of Wisconsin-Green Bay where he majored in Biology, Chemistry and Human Adaptability. He followed his undergraduate training with graduate work at The Ohio State University where he earned a Ph.D. in Biochemistry in 1991.  Dr. Runge joined the faculty of UCA shortly after completing his Ph.D. studies.
Dr. Runge has developed and taught courses in molecular and cellular biology ranging from the freshman level through graduate offerings and has until recently maintained an active research program studying cell death mechanisms in cultured breast cancer cells.  Dr. Runge is heavily involved in a wide variety of academic and non-academic activities at UCA and in Arkansas. He has recently completed a term as Chair of the Board for the Arkansas STEM Coalition; he serves as the UCA representative on the Arkansas INBRE (IDEA Network for Biomedical Research Excellence) Steering Committee; and as a member of the Board of Directors for Arkansas Preschool+, Inc. and the UCA/Conway Regional Healthcare Education Foundation, Inc. He has two adult daughters, Monica and Sabrina. Monica is a graduate of UCA and is in her third year of Veterinary Medicine studies at Louisiana State University; Sabrina is a recent graduate of the creative writing program at UCA and is currently employed as a content writer for two technology firms in Conway, AR.